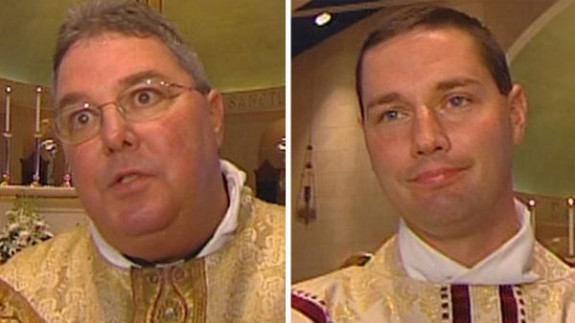 It's believed to be the first time in the U.S. that a father and son have been ordained at the same Mass.
"Charles Albert Hough the III."

Bishop Kevin Vann's historic words rang out at St. Elizabeth Ann Seton Catholic Church in Keller as he called first the father… and then the son.

"Charles Albert Hough the IV."

Both answered the call before a big congregation during a one-of-its-kind ordination.

"Oh, this is a great moment in the life of our family — a great moment in the history of our faith," said the elder Hough.

The father-and-son duo — who both go by "Chuck" — are among six Episcopal priests who became Catholic priests at the Saturday morning ceremony.

The Vatican started to let married Episcopal priests be ordained in the Catholic church 20 years ago.

The wives of both Chuck Hough III and IV both proudly looked on during the service.

"It's been a blessing… a miraculous blessing to be ordained with my son," said the elder Father Chuck. "The first time in the history of the United States a father and son has ever been ordained at the same Mass."

It was a special ceremony for more reasons than one. The political rift between Anglicans and Catholics is on the mend.

"It's a day in great history, because really — in some ways — it's sort of mending the break that occurred in the reformation years ago," Bishop Vann said. "It's very historical."

The Houghs say the controversy in the Episcopal church over gay and female priests did not drive them away. It was all about unity that made them turn to priesthood and Catholicism. And accomplishing this feat together only added to the excitement.

"We were absolutely delighted, and I'm very honored to have been ordained a Catholic priest with my father… a man I've respected my entire life," said the junior Father Chuck.
Congratulations and welcome — and ad multos annos!
And prayerful good wishes, too, to your wives!