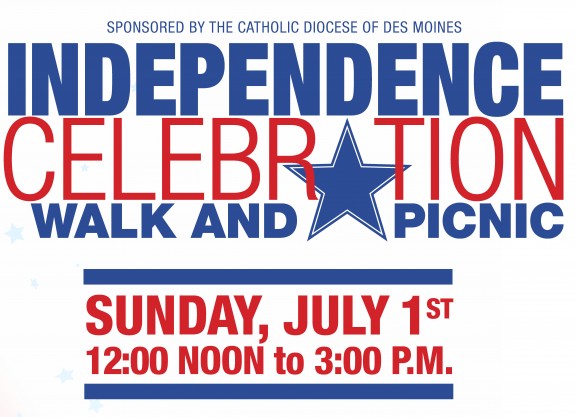 Details, from the Des Moines Register:
Thousands walked and gathered Sunday in Des Moines to stand up against what they say is government infringing on their religious freedom.

The Catholic Diocese of Des Moines sponsored the Independence Celebration Walk and Picnic. Organizers estimated 2,500 people participated.

The crowd gathered at noon at the St. Ambrose Cathedral in downtown Des Moines and walked to the Iowa Capitol. The Most Rev. Richard Pates, bishop of the Diocese of Des Moines, led the group, along with Gov. Terry Branstad, who said he attended the event on his own accord.

The event was a show of solidarity with the U.S. Conference of Catholic Bishops' "Fortnight for Freedom," which began June 21 and will conclude on Independence Day. The two-week national campaign is intended to draw attention to what they say is the government infringement on their religious freedoms.

One of the key issues is a U.S. Department of Health and Human Services' directive that nearly all employer health care plans – including Catholic universities and hospitals – must provide birth control and certain other medical services. The church says this requirement would include sterilizations and drugs that could cause abortions. A narrow exemption for churches exists, but moral and religious First Amendment objections continue to be issued by Catholic dioceses, universities, hospitals and charitable institutions now suing the federal government over the matter, as well as other Christian and Jewish groups.

White House Press Secretary Jay Carney has said President Obama's health care policy "respects religious liberty" and ensures women have access to "important preventative services, including contraception."

Shows of patriotism were on display at Sunday's event as people in the crowd carried miniature American flags. The walkers broke out into song several times, singing America the Beautiful, God Bless America and the Star Spangled Banner. Some people carried signs with messages that included "Preserve Religious Freedom," "Stop Obama's HHS Mandate," and "Respect Religious Freedom."

Mike Hansman, 22 of Des Moines, split time with his father, Frank, carrying a flag behind Pates and the governor. Mike Hansman, a Ron Paul supporter, said he feels the government is intruding on people's lives.

"The health care law is unconstitutional, I don't care what the Supreme Court says," he said.

Branstad said he came because he said religious liberties are under attack.

"I just wanted to show my personal support for religious liberty in this country," he said.

Branstad was impressed with the size of the turnout on Sunday.

"I think it shows the kind of support there is, and the opposition there is, to what the health and human services department is trying to do in imposing these rules," he said.