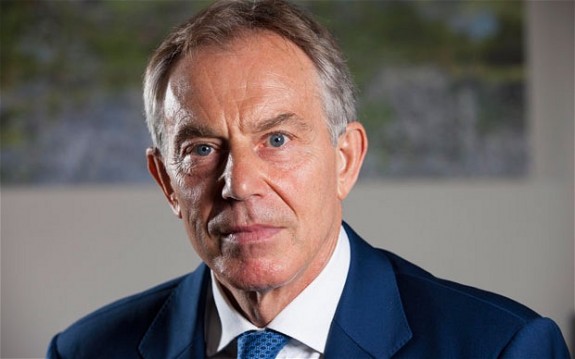 He gave an interview recently to Charles Moore of the Telegraph. An excerpt:
Tony Blair is vigorous proof of life after political death. He is back in London, looking well, smartly dressed in the combination of blue suit and brown shoes that, traditionally, is the mark of being not quite a gentleman. "I've put my tie on for The Daily Telegraph," he says. He will be at the Olympic opening ceremony on Friday.
But today , he has a different purpose. The Westminster Faith Debates, chaired by his former home secretary Charles Clarke, will close with a conversation tonight between Mr Blair, the Archbishop of Canterbury and me. The subject is religion and society.

The nation's most famous Catholic convert set up his Faith Foundation to tackle such questions. He speaks of the future. The "fundamentalist doctrines of politics", such as fascism and communism, he says, went out with the 20th century. In the 21st, when globalisation has pushed people ever closer together, the disputed territory and, he warns, the "dominant security threat", relate to religion and culture. He wants to provide the "platform" where people of different faiths can together find out what unites them.

Tony Blair has written "I've always been more interested in religion than politics'', a striking thought for a prime minister, so I ask him why. Religion, he says, engages with "the fundamental truths about life''. He feels he is now "deeply familiar with the rules of politics''; in religion, "there is so much that is still unexplored''.
Yes, but many would say that who are not themselves religious. He is. Why? He is interestingly discreet. He does not want to talk about God, or about the Church (if you look up "Church'' in the index of his autobiography, it says only "Church, Charlotte p.333''). He speaks of Jesus as a man who was "prepared to challenge conventional wisdom when he thought it was wrong''. More spiritual thoughts he keeps to himself. What interests him is that, as "a person of faith'', he has "a connection with people of faith''. He sees himself as their interpreter….

…As a Catholic convert, he "accepts the doctrine of the Catholic Church'', but "I'm not a doctrinal ideologue''. He feels "no great revulsion, quite the opposite'' for the Church of England, which he left. He became a Catholic because of his Catholic wife, Cherie, and their family: "I didn't really analyse a great deal. I just felt more at home there.''…

… The extreme atheists [he believes] "require religious fundamentalists'' to make their argument for them, so "We must push back against aggressive secularism''.

Very well, then, I say, look at gay marriage, a proposal that troubles many adherents of all the main religions. No comfort for the faithful here: Mr Blair is out of line with his adopted Church. "I understand why people take a different view,'' he says, but he is in favour of gay marriage. Indeed, it is not really possible to find a public policy issue where he takes a specifically religious view against the prevailing secularism. It is, rather, a broader point: he thinks religion is a benign force in a modern liberal order, not a hostile one.

I change the subject. Since Tony Blair left office, the whole of the Western world that he wishes to defend has been engulfed in a financial crisis wholly of its own making. As a good Catholic, he is bound to examine his conscience and make his confession. Does he feel at all responsible? He deflects the personal aspect of the question and sticks to the general.

"We must regain the basic values of what society is about,'' he says. "We're not against wealth, but we are in favour of social responsibility.'' We must not start thinking that society will be better off "if we hang 20 bankers at the end of the street''. He approaches it from the other way: "Don't take 30 years of liberalisation, beginning under Mrs Thatcher, and say this is what caused the financial crisis… Wrong!''
Read on. There's much more.