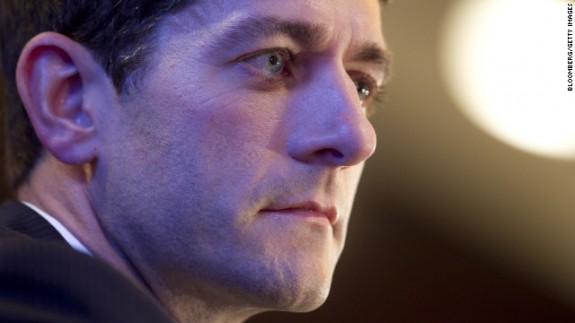 After the news about Paul Ryan, analysis has begun to pour in.
An overview, from CNN's Belief blog:
Mitt Romney's selection of Wisconsin Rep. Paul Ryan as his vice presidential running mate promises to cast a spotlight on American Catholicism in an election year when the tradition has already been a major focus.

Ryan, a Catholic who chairs the House Budget Committee, is better known for his outspoken fiscal conservatism than for leading on conservative Catholic social causes like opposing abortion and gay marriage.

But Romney called attention to Ryan's religion Saturday in introducing him as his running mate: "A faithful Catholic, Paul believes in the worth and dignity of every human life," Romney said.

And socially conservative groups were quick to praise Ryan's selection, with the president of National Right to Life saying that "Ryan has a deep, abiding respect for all human life, including unborn children and their mothers, the disabled and the elderly."

Ryan's advocacy for cutting taxes and trimming the deficit — he is the architect of the GOP's proposed federal budget — married with his willingness to talk about fiscal belt-tightening in moral terms and his low-key social conservatism speak to a political moment in which the economic concerns of the Tea Party and the social focus of the Christian right have merged into a relatively cohesive anti-Obama movement.

Ryan's presence on the ticket also could increase Romney's appeal among the millions of middle-of-the-road Catholic voters who populate key swing states, like Ohio and Pennsylvania. Catholics are considered the quintessential swing vote, and no presidential candidate has won the White House without winning Catholics since at least the early 1990s.

With Romney, a Mormon, selecting a Catholic, Obama is the only Protestant in the 2012 presidential race (Vice President Joe Biden is also Catholic).

"As a conservative Catholic, Ryan is likely to appeal to a number of Catholics in the Midwest," said John Green, a professor of religion and politics at the University of Akron in Ohio. "Catholics who are concerned about religious liberty, he is certainly a positive there."

The Catholic Church has helped frame this year's election by strenuously opposing a rule in President Obama's health care law that requires insurance companies to provide free contraception coverage to nearly all American employees, including those at Catholic colleges and hospitals. The Democrats have said that Romney's and the GOP's support for the Church's position constitutes a "war on women," while Romney and his party say Obama's rule represents a "war on religion."

In an interview with CNN, former GOP hopeful Newt Gingrich, who is Catholic, said that Ryan would shore up support in a Catholic community that feels it is "under siege."
For more, check out this item on the historic pairing of a Mormon and a Catholic on a national ticket:
While the ticket may be religiously historic in nature, bias against the Catholic and Mormon religions is at similar levels today as it was in 1960 and 1967. In a May 1960 poll, Gallup found 21 percent of respondents wouldn't vote for a well-qualified Catholic candidate. In April 1967 after George Romney announced the formation of an exploratory committee, 17 percent of Gallup respondents said they would not vote for a well-qualified Mormon. And in June of this year, an almost identical 18 percent of Gallup respondents said they would not vote for a well-qualified Mormon.

Romney briefly referenced his running mate's religion in his opening remarks Saturday, describing Ryan as a "faithful Catholic" who believes in the dignity of every human life.
And Fr. Dwight has a look at Paul Ryan's "Catholic financial principles" over at his blog:
The Catholic faith is for personal freedom and personal responsibility. Therefore we distrust both big government and big business.

This article explains how Paul Ryan's economic plans echo the Catholic principle of subsidiarity. What interests me most is why the principle of subsidiarity is a Catholic principle. It is Catholic because it is an outgrowth of the Catholic understanding of individual responsibility and freedom. These personal, social and political principles: (freedom and responsibility) are a direct outgrowth of Catholic theology and anthropology. We believe that each human person is created in God's image and are therefore created with free will. They have power to act. They are able not only to make choices, but to follow through and take action. This personal freedom is one of humanity's greatest potentialities and strengths.
Finally, a group of Catholic Democrats is predictably unimpressed:
Catholic Democrats is calling on Governor Mitt Romney and U.S. Representative Paul Ryan, a Wisconsin Catholic Republican who Romney has selected as his running mate, to defend the proposed Romney/Ryan budget on the basis of the Catholic Social Justice Tradition, which advocates for a preferential option for the poor. Rep. Ryan, who is chair of the House Budget committee, has proposed a budget that has elicited objections from prominent Catholic theologians, women religious leaders, and the chairs of the U.S. bishops' Justice, Peace, and Human Development committee as harmful to poor individuals and families who rely on the social safety net.

"The selection of U.S. Representative Paul Ryan as Mitt Romney's running mate puts the Ryan budget, the role of the Catholic Social Justice Tradition, and the ways we as a society can help the poor at the center of this campaign," said Nick Cafardi, a member of the board of Catholic Democrats. "Rep. Ryan's budget would reduce funding for the food stamp program significantly, would turn Medicaid into block grants, and would cut assistance to veterans."

Ryan's budget has faced vocal opposition from Catholic leaders – from Catholic nuns to members of the U.S. Conference of Catholic Bishops (USCCB) to theologians and members of the laity. In 2011, Bishop Stephen E. Blaire and Bishop Howard Hubbard wrote to Congress, "A just framework for future budgets cannot rely on disproportionate cuts in essential services to poor persons. It requires shared sacrifice by all, including raising adequate revenues, eliminating unnecessary military and other spending, and addressing the long-term costs of health insurance and retirement programs fairly."
UPDATE: Deacon Keith Fournier was at the event in Virginia where Romney announced his running mate. He liked what he saw:
I believe Mitt Romney is correct in his assessment of this gifted man. He is a talented public servant, a truly good family man, a faithful, genuinely Pro-Life Catholic and, as I found out today, much, much more. This man is a tremendous communicator. I have never heard him speak in public and I was truly impressed.

When Governor Romney called Congressman Ryan up to the podium, he mistakenly referred to him as "the next President of the United States". He quickly returned to correct the gaffe. However, as Congressman Ryan spoke, I actually wondered if the mistake may someday prove to have been accurate. Ryan's sincerity, down to earth demeanor, warmth and believability reminded me of a young Ronald Reagan. This man is a gifted communicator.

The first decision made by the 2012 Republican Presidential candidate Mitt Romney,choosing Paul Ryan as his running mate, was bold and brilliant.
UPDATE II: The Washington Post has an interesting look at Ryan's wife, Janna.