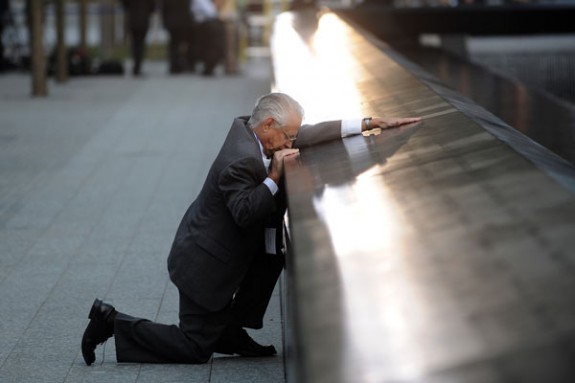 As the anniversary approaches next week, the president has issued a proclamation and a call to prayer:
President Barack Obama signed a proclamation released by the White House on Friday that the next three days (Friday through Sunday) will be National Days of Prayer and Remembrance in honor of the victims of the Sept. 11 attacks on U.S. soil. However, calling for three consecutive days of prayer is unusual from a historical and presidential perspective, says a National Day of Prayer Task Force chairman.

"As much as we would like to see the days of prayer take place every day, we believe it is a rare occurrence," National Day of Prayer Vice Chairman John Bornschein told The Christian Post Friday. "National days of prayer have been once a year and at times have been called upon more than once. However, historical records show that at least in recent times, Gerald Ford and George H. Bush are the only two who officially signed national day of prayer proclamations more than once in a given year.

"George W. Bush also asked for a day of remembrance and prayer after the 9/11 occurrence and of course that was a tragic event that we remember to this day. That seems to be the historical procedure from the presidential perspective so these three days of prayer are unusual," Bornschein said.

In his proclamation for Sept. 7-9, Obama asked that "the people of the United States honor and remember the victims of Sept. 11, 2001, and their loved ones through prayer, contemplation, memorial services, the visiting of memorials, the ringing of bells, evening candlelight remembrance vigils, and other appropriate ceremonies and activities."

Obama added, "I invite people around the world to participate in this commemoration."
And you can read the proclamation itself here.