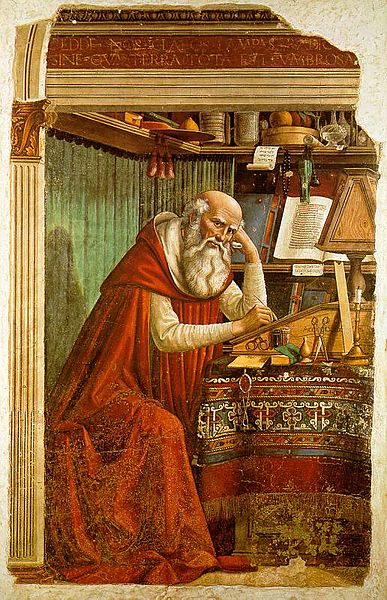 Years ago, after my mother's death, we were going through her things and came across a small black box.  Inside was a velvet pouch containing a man's silver pocket watch. Inscribed on the back were the initials "Br. J."
I showed it to my aunt who said, "Oh, that was your father's, from when he was in the Christian Brothers."  I'd known that he'd been in the Christian Brothers for a time just before World War II, but it wasn't something he talked about very much.  "But who was Brother J?," I asked.  "That was your father," my aunt replied.  "His name was Brother Jerome."  She turned the watch over in her hand.  "I haven't seen this in years. It was a gift. I can't remember now who gave it to him…"
I'm not sure how my father, the man I'd always known as George, came to be "Brother Jerome," or whether that name was chosen by him or for him. But I became fascinated by the saint whose name he bore.  I did some reading about St. Jerome. Among other things:
Saint Jerome, the priest, monk and Doctor of the Church renowned for his extraordinary depth of learning and translations of the Bible into Latin in the Vulgate, is celebrated by the Church with his memorial today, September 30. Besides his contributions as a Church Father and patronage of subsequent Catholic scholarship, Jerome is also regarded as a patron of people "with difficult personalities,"owing to the sometimes extreme approach which he took in articulating his scholarly opinions and the teaching of the Church. He is also notable for his devotion to the ascetic life, and for his insistence on the importance of Hebrew scholarship for Christians.
He wasn't a barrel of laughs. And he seemingly had nothing in common with my dad, a salesman who never read anything more challenging than the sports page, and enjoyed cold beer, rich food and bad jokes.
But St. Jerome has followed me.  Exactly 10 years ago on the feast of St. Jerome, 30 September 2002, I began formation for the diaconate at an Evening Prayer service presided over by the bishop; at the conclusion, he presented each of us with a small paperback edition of the Bible. I took the date and the feast as providential—a sign, perhaps, that I was following the right path and that, somehow, my late father was offering some heavenly intercession.
I used the Bible often during formation.  And five years later, I used the pocket watch, too: I carried it with me the morning I was ordained.
I remember both Jeromes today —the Doctor of the Church and my father—and remember, too, St. Jerome's famous teaching about scripture:
"I interpret as I should, following the command of Christ: 'Search the Scriptures,' and 'Seek and you shall find.' For if, as Paul says, Christ is the power of God and the wisdom of God, and if the man who does not know Scripture does not know the power and wisdom of God, then ignorance of Scriptures is ignorance of Christ."
St. Jerome, pray for us.