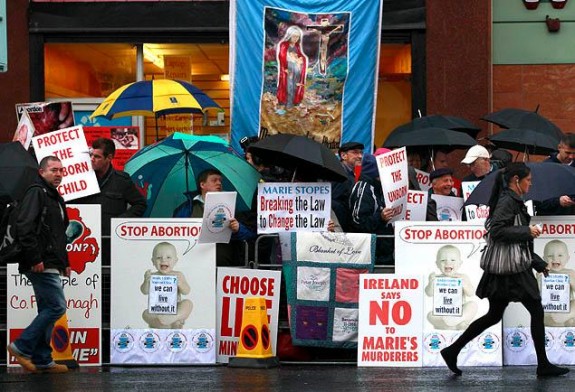 The first abortion clinic on the island of Ireland opened Thursday in downtown Belfast, unleashing angry protests on the street and uniting Catholic and Protestant politicians in calls to investigate the new facility.

The clinic, run by the British family planning charity Marie Stopes, will be permitted to provide abortions only in exceptional circumstances to women less than nine weeks pregnant.

But the opening caught Northern Ireland's socially conservative politicians off guard, and they vowed to launch an investigation into how the clinic operates. About 400 protesters who lined the sidewalk outside the facility all day said they were certain that public pressure would force authorities to shut it.

"I expect the heads of government to run Marie Stopes out of Northern Ireland," the protest leader, Bernadette Smyth of the pressure group Precious Life, told supporters through a bullhorn. "Those who have come … storm heaven with your prayers!"

Abortion is one of few issues that unites Northern Ireland, a predominantly Protestant corner of the United Kingdom, and the mostly Catholic Republic of Ireland. Both jurisdictions keep abortion outlawed except in cases where doctors deem the woman's life at risk from continued pregnancy.
Both effectively export the controversy to Britain, where abortion on demand has been legal since 1967. An estimated 4,000 women from the Irish Republic, and 1,000 from Northern Ireland, travel there for abortions annually, often lying to family, friends and colleagues about their absence.Inside the clinic on Thursday, doctors and counselors dealt with several women in crisis pregnancies. They reported being deluged with calls from women, including Republic of Ireland residents, seeking appointments.