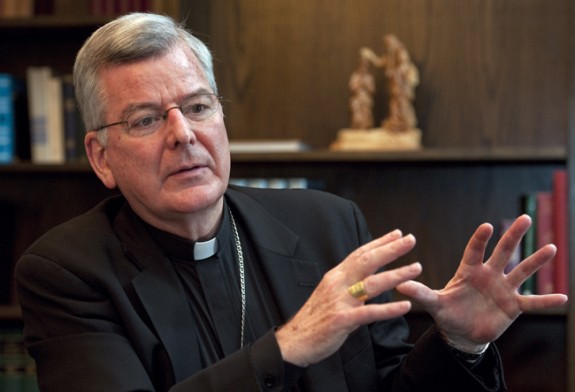 Minnesota Catholic leaders issued statements on Wednesday expressing deep disappointment over the defeat of the proposed marriage amendment.

The Minnesota Catholic Conference, the public policy arm of Catholic bishops in Minnesota, said that despite the setback, "our efforts to promote and defend the cornerstone social institution of marriage will continue."…

…Minnesota Catholic bishops have been instrumental supporters in the campaign to pass the amendment, which sought to change the state's constitution to define marriage as a union between a man and a woman — essentially banning same-sex marriage.

Key among the amendment's religious backers is Twin Cities Archbishop John Nienstedt. The archdiocese dedicated over $650,000 to the cause of trying to pass the amendment.

The archdiocese posted a statement on its website Wednesday, lamenting the outcome of the amendment:

"Minnesota's voters have spoken. Although the defeat of the amendment is a very serious concern to us, it will not deter us from continuing to serve this community and the whole state in pursuit of the common good. We are grateful to the thousands of Minnesotans, particularly those who lent their support to Minnesota for Marriage, for their commitment to proactively protect the timeless definition of marriage."

Meanwhile, the Rev. Mike Tegeder, a frequent critic of Nienstedt, who serves as pastor at two Minneapolis churches, submitted an e-mailed letter to The Star Tribune on Wednesday calling for Nienstedt to vacate his post.

"As a priest of the Archdiocese I would ask our Archbishop, John Nienstedt, to prayerfully consider stepping down from his office," the letter states. "It would be healing for our state and our church and would show some magnanimity on his part."

Jim Accurso, a spokesman with the archdiocese, said Wednesday afternoon the archdiocese was not aware of the letter but would take a look at it and possibly respond to it.