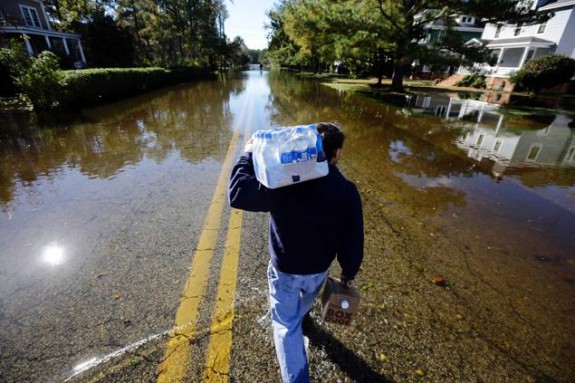 My blog neighbor Father Michael Duffy was finally able to break his long silence and give an update yesterday on his situation on Long Island. Just ordained in June, he writes that, like so many things in his young priesthood, "this is something they didn't prepare you for in the seminary": 
We're still here. my parish is still in the dark, but thank God not much damage. I'm writing this post via iPhone so please excuse any typos.  I have been incredibly moved by the resilience of the people of New York, New Jersey and beyond. Power is slowly coming back to our area – my mother just received her power.   will have plans here at the parish to move Masses this Sunday to the parish auditorium where there is more natural light  if the power doesn't return.  We have survived the last few days on candles and whatever was left in the fridge that had to be either cooked or thrown out.  As a rectory we have bonded together – especially over meals. Those moments to come together around the dining room table and share in the fraternity of the priesthood have been moments I don't think I'll soon forget.

I have to say we are lucky. It would be nice to have the power back but compared to so many others we have been incredibly blessed here. My heart is breaking for breezy point and other areas so devastated. But if today's feast of All Saints has taught is anything its that in the darkest of times we creed to rely on God. The great difference between us and the saints is that the saints kept trying. They didn't give up. They continually relied upon The Lord. We're all called to do the same.
Keep praying, folks.  So many need it, especially now…