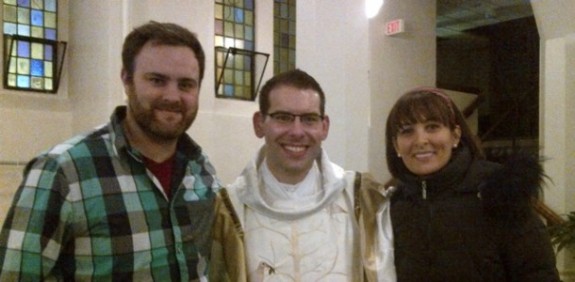 I posted on his impending ordination a couple weeks back.
Now, it's happened: 
When Muskegon native Matthew Anthony Hysell was ordained last week at St. Joseph's Cathedral Basilica in Edmonton, he became Canada's first deaf priest.

"The distinction of being the first deaf priest in Canada was certainly not an honor I was looking for" Hysell said in an e-mail. "But I do admit that I am pleased with the recognition that this occasion is bringing to the needs of the deaf community."

There are nearly 129,000 deaf Catholics in Canada, according to the Archdiocese of Edmonton. Hysell, who is active in St. Mark's Catholic Community of the Deaf, will serve as a parish priest at St. Thomas Church in Mill Woods.

"Just as God spoke to the human family as a human person in the incarnate word, Jesus Christ, my ordination is an occasion for the church to promote its message to the deaf community in the language of deaf people — sign language — in the person of a Deaf priest," Hysell said.

He added that the recognition of the pastoral needs of the deaf people and his ordination to the priesthood remains true to the church's missionary spirit.

"The key word here, I think, is 'solidarity' — my ministry will be the church's solidarity with the deaf," Hysell said.
Congratulations!  Ad multos annos!