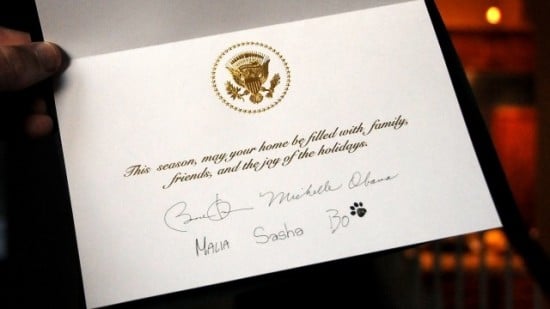 Given items like this one, you would think so.
But it turns out the word "Christmas" hasn't appeared in a White House Christmas card for years.
A website devoted to White House Christmas cards has some context:
During their first year in the executive mansion, the President and First Lady Michelle Obama's selection of their White House Christmas card caused some controversy in that there was no mention of the word "Christmas" anywhere on the front or inside of their card. The front of the very stylish, cream-colored card, featuring a gold wreath surrounding a gold presidential coat of arms and containing a maroon border, said "Season's Greetings," with "2009" centered below. The inside verse offered good wishes to the Presidential Christmas cards' recipients: "May your family have a joyous holiday season and a new year blessed with hope and happiness."

The fact that there was no printing of a biblical passage (as there was on White House Christmas cards for each year sent out by George W. and Laura Bush) nor an artist's depiction of decorations in one of the rooms in the White House (as on Bill and Hillary Clinton's selections) certainly brought out the critics. Among those voicing their opinion on the matter was Representative Henry Brown, a Republican from South Carolina, who introduced a resolution calling for the defense of the sacredness of the Christmas holiday. He said, "I believe that sending a Christmas card without referencing a holiday and its purpose limits the Christmas celebration in favor of a more politically correct holiday." More than 40 Democrats and Republicans co-signed the bill.

A White House spokesperson indicated that certainly no slight was intended and that the Presidential family recognized that many Americans celebrate different holidays at the end of the year and at the beginning of the new year, and the Obamas' White House Christmas cards reflect that thought. Besides, the Obamas' holiday cards did not break any new ground; George W. Bush's distributed White House Christmas cards that did not mention the word "Christmas" either. Barry Lynn, the executive director of Americans United for Separation of Church and State, has said, "It makes sense for a president of all the people to send out a card…without referring to any one specific religion."
Meantime, if you're interested in the subject, White House Christmas Cards.com has some fascinating history.