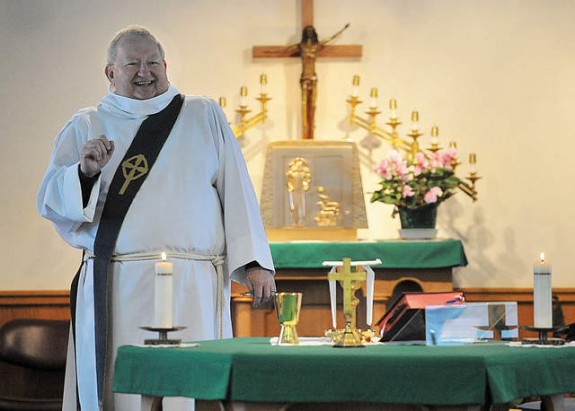 And, like most, he's a former Episcopalian: 
A married father of three will be ordained a priest in the Catholic Church by Buffalo's Bishop on Saturday, January 26.

Deacon John Cornelius, 64, grew up in Bolivar and attended Allegany College and SUNY Fredonia before enlisting in the U.S. Navy. He received a masters of Divinity from the Episcopal Seminary at Northwestern University and served as an Episcopal priest for 20 years at parishes in Florida, New York, Rhode Island and Texas.

Two years ago, he and his wife Sharyl converted to Catholicism and John was ordained a transitional deacon last November. Currently he is serving as a pastoral associate at SS. Brendan and Jude Parish in Almond.

Now, Deacon Cornelius will be ordained a Catholic priest on Saturday, January 26 at 5p.m. by Bishop Richard Malone at Immaculate Conception Church in Wellsville. To prepare for the priesthood, Deacon Cornelius spent every Saturday for 20 weeks taking a distance learning course from the University of Houston.
UPDATE: The Buffalo News has more:
"This is something that's totally new to people here," he said. "Down in Texas, it wasn't quite so much an anomaly."

The Diocese of Buffalo has at least one other priest who was married and is a father. But the Rev. Richard J. Cilano was able to pursue ordination only after his wife died. Ukrainian Rite and Byzantine Rite Catholic priests are able to marry and have families, but it's not common for them to celebrate Masses in Roman Catholic churches.

Cornelius said he believes that his perspective as a husband and parent could be a benefit in relating to parishioners.

"When they come to me and talk about their own families, there's a certain amount of reciprocity of emotion that goes along with it," he said.

Cornelius, who grew up in Bolivar, said he was laid off twice from jobs he held before entering the priesthood. He recalled the financial stresses of trying to support a family while out of work and the difficulties of raising children, including a daughter who once ran afoul of the law.

Having experienced those realities adds authenticity to his counsel for people to turn to God in times of trouble, he said.

"You can look at people and say, 'Yeah, I know what you mean, but God will take care of you,' " he said.
Cornelius' presence at the altar will be highly unusual in the Diocese of Buffalo.