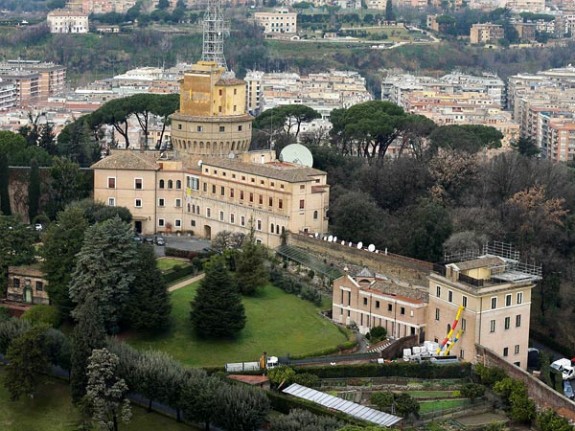 For those wondering where Benedict will be hanging his biretta after February 28th, some answers from John Allen: 
After a brief period at the summer papal residence at Castel Gandolfo, Benedict XVI plans to move into a former convent on the grounds of the Vatican, which is currently undergoing renovations to accommodate its new resident. It's the "Mater Ecclesiae" monastery, built out of what used to be the headquarters of the Vatican gendarmes.

In 1992, Pope John Paul asked that the facility be converted into an international convent for contemplative sisters, who would pray for the pope and the church. Over the last 20 years, the convent has hosted small groups of sisters from various orders, including the Benedictines, the Poor Clares and the Salesians (also known as the Visitandines). The last group to occupy the convent left in November 2012.

The convent has four floors, two of which contain 12 cells for the sisters who used to live there. There's also a kitchen, a refectory and a small infirmary, as well as a chapel. Part of the renovation currently under way is to install a library, an obvious concession to Benedict's passion for books. Outside is a garden with lemon trees, where the sisters used to cultivate fruits and vegetables using "green" techniques.
Some additional history from the good people at
National Geographic: 
It has housed small communities of cloistered nuns whose main task has been to provide spiritual assistance to the pope and to the Roman Catholic Church as a whole by praying in Latin and singing Gregorian chants.

The nuns would also embroider papal garments and cultivate a small organic orchard and a rose garden next to their residence. In a 2009 interview with the Vatican newspaper L'Osservatore Romano, the monastery's then abbess said that Benedict particularly appreciated the special-recipe marmalade that the nuns would prepare out of the oranges and lemons they picked in the Vatican orchard.

It is not yet clear for how long the soon-to-be-former pope will stay at the monastery.