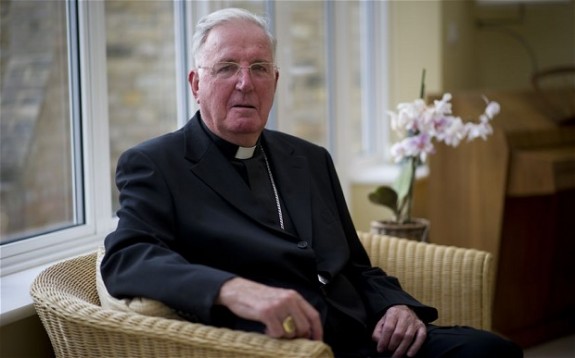 The new Pope should not condemn contraception, its former leader in England and Wales suggested today as speculation began about the future of the Church following the surprise resignation of Benedict XVI.

Cardinal Cormac Murphy-O'Connor said that while a radical departure from previous teaching was not likely, it would be "wise" to focus on "what's good and what's true" about marriage and family life instead.

He said that Catholic teaching on sexuality should steer away from saying "we condemn this, we condemn that".

"I think that every Pope will face what needs to be faced and with regard to contraception I think the Pope won't say the Church has been wrong the whole time. He'll be saying there are ways…

"I think the Pope will be as every other Pope has, particularly Pope Benedict, understanding that the fundamental teaching on sexuality is concentrated on marriage, on family life.
The cardinal's views are significant because, while at 80 he is too old to vote in the conclave to elect the next Bishop of Rome, he will take part in its discussions.

He told BBC Radio 4's Today programme: "I don't expect the next Pope to be a radical. Every Pope when he's elected is not going to be elected to change what's been handed down through the centuries."

The cardinal said the Pope must maintain the traditions of the Church but it was also important for him to be "listening".

He defended the Church's position on gay marriage saying it was not "completely out of step" as had been suggested – though it may be "swimming against the tide".

Prof Diarmaid Macculloch of Oxford University, a leading authority on Church history, said its teaching had increasingly placed the bishops at odds with the faithful, who "simply ignore" what they are told.
"I think that the Church would be wise actually to focus on that in her teaching, rather than saying 'we condemn this, we condemn that, or the other'. No – focus on what's good and what's true."