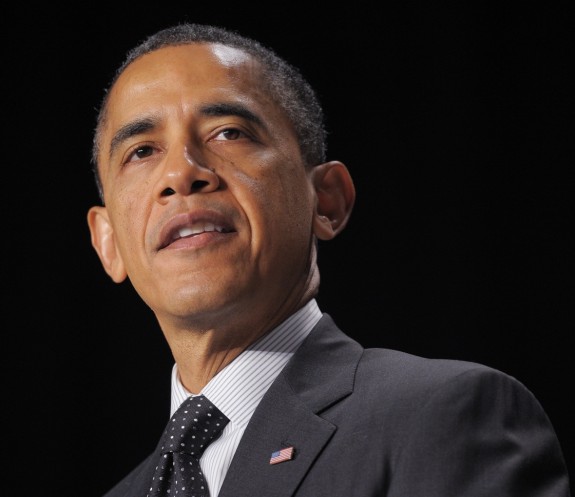 For his fifth year, President Barack Obama attended the National Prayer Breakfast Thursday morning in at the Washington Hilton in Washington, D.C. Yet even though Obama has taken strong positions in the last year on issues of concern to religious communities, such as same-sex marriage, immigration reform and the contraception mandate in his healthcare reform law, he made no mention of such controversial issues issues in his 19-minute speech at the Washington Hilton.

"How we're going to reduce our deficit, what kind of tax plan we're going to have … In the midst of all these debates, we must keep that same humility that Dr. King, Lincoln, Washington, all our great leaders understood is at the core," Obama said in his most direct reference to policy during his address to a mix of legislators, clergy and well-known figures such as Italian tenor Andrea Bocelli and Olympic gold medal gymnast Gabrielle Douglas (Bocelli performed "Ave Maria" after the president spoke and Douglas offered the closing prayer).

Obama noted that prayer should transcend politics said the unity provided by faith often quickly goes away.

"We'd like to think the shelf life (of the prayer breakfast) wasn't so short. I go back to the Oval Office and start watching the cable news networks, and it's like we didn't pray. So, my hope is that humility, that that carries over every day."

Obama told the audience he looks at scripture to learn how to become "a better man as well as a better president."

Regarding the prayer breakfast, which began in 1953, the president said that "it says something about us as a nation, as a people, this great prayerful tradition has endured … In calm and in crisis we come together not as Democrats and Republicans but as brothers and sisters and as children of God."
As
other reports
note, the president's speech was strikingly religious in tone:
"We come together because we're a people of faith. We know that faith is something that must be cultivated," Obama proclaimed. "Faith is not a possession. Faith is a process."

In addressing the importance of seeking a higher power, Obama cited Hebrews 11:6, which reads, "And without faith it is impossible to please God, because anyone who comes to him must believe that he exists and that he rewards those who earnestly seek him…"

"…As Christians we place our faith in the nail-scarred hands of Jesus Christ, but so many other Americans also know the close embrace of faith," he said, noting that Muslims, Jews — even secular Americans — have a deep faith in America."
Read more.  Video of the president's remarks below.