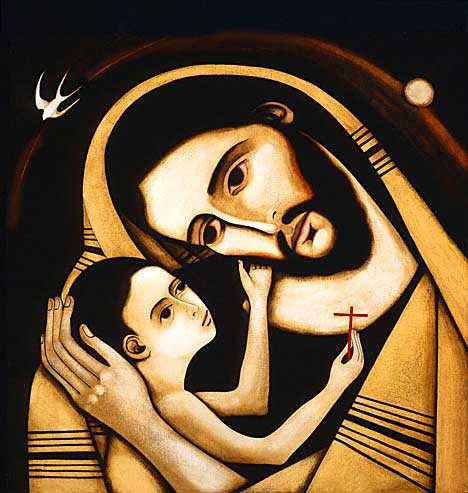 A favorite story of Blessed Pope John XXIII—the man born Joseph Roncalli—tells of how he greeted a visiting delegation of Jews at the Vatican and announced, "I'm Joseph, your brother."
Now Joanne McPortland is making the persuasive case that what the church needs is not necessarily another John XXIII (who is irreplaceable) or Benedict XVI (ditto, and he's another guy born Joe) but rather a Pope Joseph I:
If I were to whisper my wish, which is all any of us could do, I would hope the Spirit and the College of Cardinals would be leaning toward someone who combines the best of my two favorite popes:

—a man with the openness to the world's hunger for Christ of a John XXIII, and a commitment to Christ's Church as unshakable as that of Benedict XVI;

—a man with John XIII's pastoral genius and air of being "one of us," along with Benedict XVI's steel in the face of the Enemy;

—a man who is capable of causing people to fall in love with the Church—as well as being open to drawing the lost ones home.

In other words, we need an average Joe, with a twist. And I mean that literally. May the Holy Spirit give us a new St Joseph, guardian of the Church as he was of Mary and her Child—a father, a protector, a craftsman, a man in the world but not of it. It strikes me that the feast of St Joseph the Worker, March 19, may fall within the Conclave. What better time for the Holy Spirit to give us a pope with the gifts of those two Josephs—Roncalli and Ratzinger? And what better name might the new pope choose than Joseph?

Who'll give me odds on Papa Giuseppe I?
I'd like that: a pope named for the patron of fathers and husbands and workers; a Holy Father taking as his inspiration another holy father; a builder of benches; a provider of sustenance; a guardian and protector of virgins and innocents; a man of few words but with great trust in God; and (not insignificantly) a man who dreams.
We could use someone like that. Holy Spirit, are You listening?