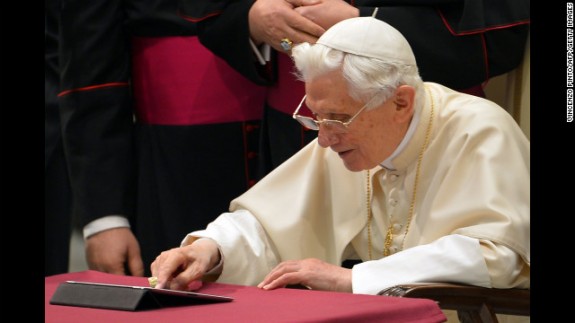 And a brief, bright era in new media comes to an end. Let's hope his successor will have his own account:
At the same time as Pope Benedict XVI leaves office on February 28, his Twitter presence as @Pontifex will also come to an end, according to Vatican Radio.

The news may come as a sad blow to the more than 2 million people who've signed up to follow his tweets in nine languages since his account was launched with fanfare two-and-a-half months ago.

About 1.5 million of those people follow the English language feed, with nearly 700,000 following him in Spanish and just short of 335,000 in Italian. About 22,500 people follow @Pontifex in Latin.

The account will be closed to coincide with the 85-year-old pope's formal departure from office at 8 p.m. local time, Vatican Radio said.

"It seems unimaginable that one could continue to use a communication tool so popular and powerful during the 'sede vacante' period," Vatican Radio said, referring to the time during which the seat will be empty.

"From choice, the Pontifex profile was not personalized, but it clearly refers to the person of the pope."

It's not yet clear whether whoever is chosen to succeed Benedict, who cited the frailty of age as the reason for his departure, will also use Twitter to reach out to some of the 1.5 billion Roman Catholics around the world.

On February 10, the day before the pope announced his shock resignation, @Pontifex tweeted: "We must trust in the mighty power of God's mercy. We are all sinners, but His grace transforms us and makes us new."

Only two tweets have been posted since in English, both relating to the Lent period.

According to Vatican Radio, Benedict is likely to offer his last tweet on February 27, the same day that he will give his final general audience to huge crowds expected to gather in St. Peter's Square in Vatican City.

If not then, perhaps one final thought will come from Benedict on February 28, "before retiring into silence," it suggests.
UPDATE: The Vatican has clarified the reported demise of @Pontifex:
In response to numerous queries as to whether the Holy Father's twitter account will be permanently shut down following his resignation, Msgr. Paul Tighe, under-secretary of the Pontifical Council for Social Communications issued the following statement:

The Twitter account @pontifex was created for the exclusive use of the Pope.

@pontifex will be inactive during the interim period between the renouncement of Pope Benedict XVI and the election of his successor (sede vacante).

@pontifex will be available for use by the next Pope as he may wish.