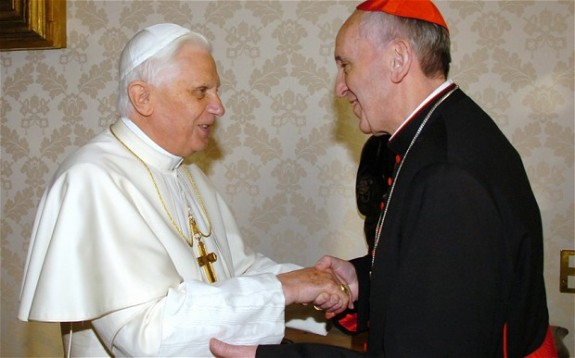 Given the widespread reports that the current pope was a runner-up in the last conclave, you have to wonder if Pope Benedict sensed that perhaps Cardinal Bergoglio's time was at hand.
It certainly casts the following tidbit from Rocco in a new light. Here's a post from last month, about one of Benedict's final appearances:
 Drawing a crowd at least four or five times its normal size, a throng estimated at well over 100,000 people swarmed St Peter's Square today for the Pope's noontime Angelus – the next-to-last Sunday greeting from B16 before his resignation takes effect in 11 days…

…In his usual greetings after the reflection and prayer, for the most part the Pope only alluded to his resignation, thanking those in attendance for their "closeness" and "goodness" in the wake of his Monday announcement in the usual six languages.

"Thank you for having come in such numbers!" Benedict told the Italian contingent, who ostensibly formed the bulk of the crowd.

"Your presence is a sign of the affection and spiritual closeness you've shown me over these days. I am deeply grateful to you!"

Only to the Spanish-speaking faithful, however, did Benedict explicitly ask prayers "for me and for the next Pope." (Emphasis mine.)
Maybe it's a coincidence.  Maybe he sensed the odds were in favor of a pope from that corner of the world.
Or maybe he knew the thinking of the cardinals, and just sensed instinctively which way the winds of the Holy Spirit were about to blow…