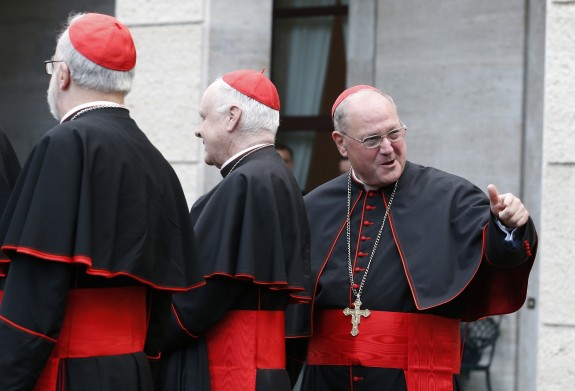 His final blog post before the conclave:
I hope the conclave will not go on too long. All I know is that I'm just taking in a small "carry-on" piece of baggage. If we're in there too long, and if they show photographs of St. Martha's from outside Vatican City, my room will be the one with the laundry hanging in the window to dry!

The veteran cardinals tell me that the conclave is almost like a retreat. We of course concelebrate Mass every morning to begin the day, and pray the liturgy of the hourstogether. Obviously, we can visit and talk with each other at St. Martha's House during our meals and brief time off between the actual voting, but, I'm told the actual hours in the Sistine Chapel, carried out scrupulously according to the traditional protocol, are done in an atmosphere of silence and prayer; it's almost, the old-timers tell me, like aliturgy.

These last twelve days have been immensely enlightening for me, as I get to know my brother cardinals better. The atmosphere is one of prayer, trust, calm joy, and confidence, with very candid conversations about issues of pastoral urgency, and challenges facing the Church Universal and the next Holy Father.

One cardinal observed, after hearing others list the qualifications our new Pope would need, that, "It seems we have to elect Christ, not a Vicar of Christ!"

Yes, we expect a lot from the Successor of St. Peter, and it would be impossible to find the perfect one. Yet, we expect a lot from our bishops, priests, deacons, and religious women and men; then again, we expect a lot from our spouses, our parents, our teachers, our political leaders, and our law officers.

Jesus calls us "to be perfect;" that's sobering and can discourage us; but — – here's the reassurance — – He also helps us with His grace, and never fails in His mercy when we fail.

I guess that's what I'm asking you as I pack up to enter the conclave: ask the Lord to send His grace and His mercy upon His Holy Church, and upon us cardinals who have the frightening task of electing a new Bishop of Rome!

Watch for the white smoke! I'll try to be in touch as soon as I can after the conclave ends. I'll stay for the "Mass of Inauguration" for the new Holy Father, but hope to be home, back with you, my spiritual family, before Holy Week starts on Palm Sunday.

Arrivederci!
Photo: CNS/Paul Haring