It isn't every day that you encounter these kinds of stats on Twitter:
1 TWEET.
1,991,949 FOLLOWERS.
But here you go: the first tweet of Pope Francis: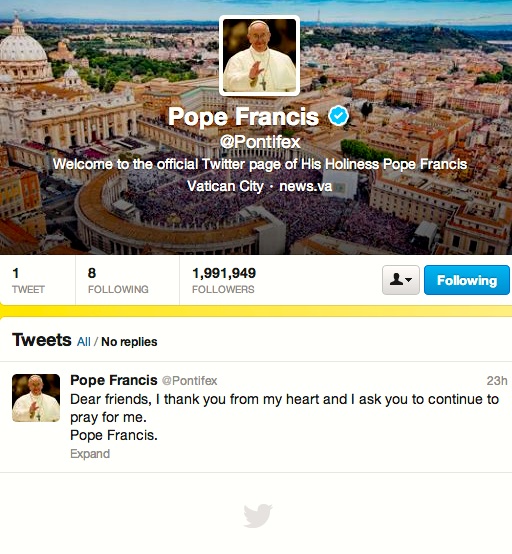 Pope Francis made his first foray into the world of Twitter, making his first tweet on Sunday.

Cardinal Jorge Mario Bergoglio of Argentina was chosen last week to lead the Roman Catholic Church. Having taken the name Pope Francis I, he delivered his first angelus, an afternoon prayer, as pontiff to a crowd of about 300,000 in St. Peter's Square on Sunday.

He also tweeted a greeting to his nearly 2 million Twitter followers.

"Dear friends, I thank you from my heart and I ask you to continue to pray for me, he said in his first tweet.

On the day he was elected pope, the Vatican tweeted on the pope's account, "HABEMUS PAPAM FRANCISCUM," which means, "We have Pope Francis."

The pope had not previously had a Twitter account.

Pope Francis' predecessor, Pope Benedict XVI, launched the pontiff's Twitter account last December. Pope Benedict, who made social media inroads at the Vatican, sent his first tweet about three months ago, blessing the approximately 648,000 people who had begun following him before he had even made his first Twitter appearance.