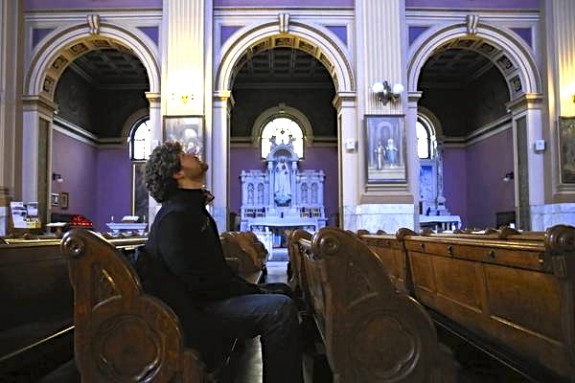 The Chicago Tribune follows one young man's unusual pilgrimage:
There's nothing extraordinary about Aidan Gillespie's daily commute on the No. 50 bus down Damen Avenue. Perhaps that's why the Roman Catholic schoolteacher chose the train Tuesday for a more spiritual journey.

Setting out before dawn, Gillespie, 25, rode every line of Chicago's "L" from end to end, reflecting on the Stations of the Cross, a devotion marking the events that led to Christ's crucifixion.

Along the way he stopped at 10 houses of worship to take in their grandeur, meditate and pray. Seventeen hours and 145 CTA stations later, he landed back where he started and completed the journey.

"Even though I'm always moving, the whole idea is witnessing the pulse of the city," said Gillespie, a teacher at Cristo Rey Jesuit High School in the Little Village neighborhood. "I like to look for God's presence in every part of my daily life, even though it's sometimes hard to find."

By making his quiet pilgrimage, he also removed himself from a standard routine, enabling him to take in the sights and smells around him instead of aiming for a destination.

Gillespie, of the West Town neighborhood, began his day at nearby St. Stanislaus Kostka Catholic Church, where he recently discovered that his great-great grandfather baptized a child in 1872. He spent the rest of the morning at St. Edmund Catholic Church in Oak Park and Our Lady of Sorrows Basilica in East Garfield Park.

"It's a wonderful idea if it works," said the Rev. Chris Krymski, pastor of Our Lady of Sorrows. "The purpose is to bring you close to God."

The journey also took Gillespie to neighborhoods and suburbs where he otherwise might not have gone. In Skokie he visited St. Peter Catholic Church near the end of the Yellow Line. He also tried to visit St. Gabriel Catholic Church, located off an industrial stretch of 47th Street in the Canaryville neighborhood.

After trudging from the 47th Street Red Line station, under railroad tracks, past truck yards and over piles of trash, he found the doors of St. Gabriel locked. But even that disappointment served a purpose, he said, after saying a silent prayer for the "people I'm locking out of my life."

"Once I leave the door in the morning, it's out of my hands," he said.
Read more.  And follow part of his journey in the video below.