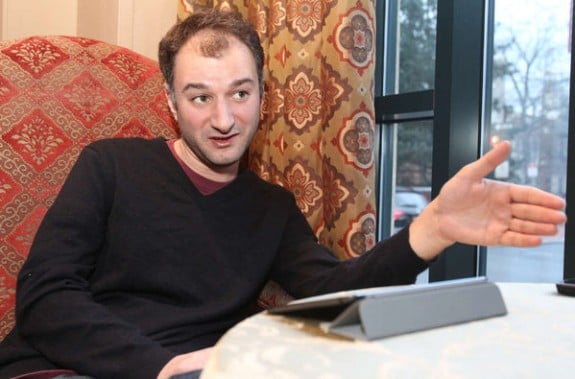 The latest on the uber-blogger, from Poynter: 
During an interview this weekend with Philadelphia Inquirer culture reporter Stephan Salisbury, Vatican blogger Rocco Palmo whipped out his iPad and canceled his flight to Rome.

Palmo had planned to be near the Vatican for the next two weeks of historic doings, but the cost of the trip proved too much. "The hotels!" he exclaims. "The media people going over are getting hosed!"

"People in Rome were calling me up this morning saying, 'If you don't come now you're finished on this beat," Palmo said in a phone interview with Poynter Sunday night. "It wasn't out of intimidation but it was out of a concern with me for my work: 'You've worked for this, you've earned it to be here.' "

But Palmo, who avidly chronicles Vatican personnel moves for his blog "Whispers in the Loggia" from his parents' basement in Philadelphia, decided he couldn't swing the costs, which he originally estimated at about $5,000, then bumped up to $8,000. Airfares are now through the roof, he said, and he doesn't think he could make the trip work for less than five figures. "It's not gonna make me any smarter going over," he said, "but even trying will make me a hell of a lot poorer."

Palmo also questioned the utility of covering the conclave on the scene: He expects cell phone service to be overwhelmed in St. Peter's Square during the announcement of the new pope, and he may end up watching the big moment on TV in his room just so he can file.
Meantime, the Philadelphia Inquirer sat down for a longer conversation with their hometown boy:
Palmo has been handed the story of a lifetime: the resignation of Pope Benedict XVI, cardinals descending on Rome, election of the next pope. It hasn't happened in centuries.

How's he doing it?

Palmo takes out his iPad, his pocket WiFi connection, his cellphone and puts them on a small table in the lounge of the Omni Hotel at Fourth and Chestnut Streets.

"You're looking at it," he says, erupting in a signature laugh, a kind of nervous cackle.

"My cellphone bill is going to be atrocious when all this is over. E-mail, cell, Skype. Hey, I started [the Whispers blog] in '05, and the technology has evolved until now. It's the first social-media conclave of the church."

Palmo is hoarse – he has a cold – and thirsty and rail thin. He orders a pot of coffee, a glass of wine. He downs some water.

"I'll tell you," he confides, "black coffee and cigarettes – that's all I'm fueling myself on now."

He checks his iPad. Checks his watch. Oops! Only 20 minutes left to cancel a plane reservation to Rome.

"Excuse me," he says, punching and clicking his way to a successful scuttling.

Palmo had planned to be near the Vatican for the next two weeks of historic doings, but the cost of the trip proved too much. "The hotels! he exclaims. "The media people going over are getting hosed!" He is completely financed by readers, accepting no advertising and no contributions from church policymakers.

"That keeps a purity to it," he says. "If I wanted to take ads, I could cash in big time. If I wanted to sign with another outlet, and there have been offers, things would be more stable. . . . I have complete freedom with this. I have the trust of people around me."

Palmo's sources and knowledge of church intricacies are indeed legendary.

"Rocco has the Vatican and most dioceses in the United States wired," Ann Rodgers, religion reporter for the Pittsburgh Post-Gazette, wrote in an e-mail Sunday from Rome. "The first time he attended a meeting of the U.S. Conference of Catholic Bishops, I had bishops [ask] me to introduce them to Rocco, as if they, too, were in awe of what he does. I have walked into offices of the U.S. Conference of Catholic Bishops and noticed that the staff member's computer was open to 'Whispers In the Loggia.' "