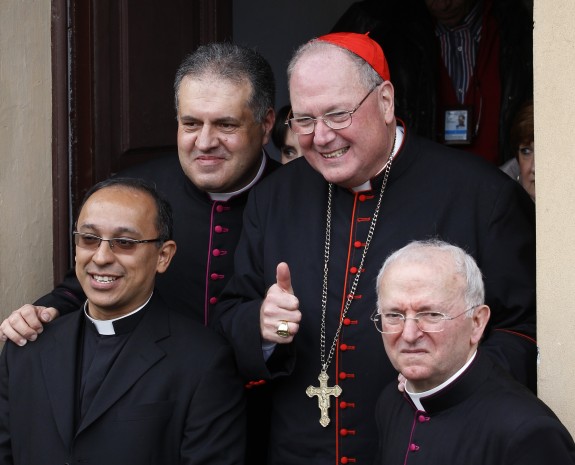 John Allen today looks at three American cardinals who are getting some papal buzz, and what he says about New York's Timothy Dolan is especially entertaining:
What's the case for Dolan?

First, he's evangelization on steroids. He's easily the most charismatic, media savvy and engaging personality among the 115 cardinals who file into the Sistine Chapel. If he weren't a clergyman, Dolan probably would have been a U.S. Senator, given his people skills and gift for gab.

One buzzword among cardinals is the need for an energetic pope, and from personal experience of watching the man work I can say this: Tim Dolan has no "off" switch.

Second, he's got a reputation for having some steel in his spine. Beneath the easy smile and self-deprecating humor, he's at peace with himself, comfortable in his own skin, and not given to agonizing over tough decisions. Other cardinals may look at him and think, "There's a man who wouldn't be crushed by the burdens of this job."

Third, Dolan is seen as a staunch conservative, appealing to traditionalists, with a pragmatic and open working style, appealing to moderates. He tries to keep his friendships green among other bishops, which gives him appeal among various currents.

Fourth, there's an anti-establishment mood among many cardinals, a desire to shake things up in the Vatican, and Dolan may seem the most likely American to actually get that done. (That was the linchpin of Magister's argument.)

Here's the case against Dolan.

First, he may simply be "too American." His boisterous personality may be too great a shock to the system for some cardinals, who may admire him as an emissary of the faith in New York, but who would find him a bit much in Rome.

On a related note, some cardinals may worry that having such a dominant personality in the papacy would overshadow other bishops and layers of authority. To repeat a line I've used elsewhere, if they elect Dolan the other 5,000 bishops of the world might as well take the next 15 years off, because they'll never be seen or heard from again.

Second, Dolan may not pass the "global vision" test. He hasn't spent any significant stretch of his career overseas except for his seven years as rector of the North American College in Rome from 1994 to 2001, and it's basically an American colony. He's got some Italian and Spanish in addition to English, but that's about it.

On the other hand, Dolan has been leading the charge among the American bishops to take a more aggressive line against anti-Christian violence and persecution around the world, including in the Middle East, Africa and parts of Asia. Cardinals from those regions may look at Dolan and see the figure most likely to deploy the political capital of the papacy effectively to come to their aid.

Third, Dolan has no experience working inside the Vatican, and some cardinals may worry that he'd be overly dependent on the old regime, especially in the initial stages of his papacy. For what it's worth, some observers in New York say that Dolan is such an ad extra leader, focused on engaging the media and the political issues of the day, that he hasn't really wrapped his hands around the administrative dimension of the archdiocese.

When Dolan came to Rome in February 2012 to get his red hat, he drew a look as a possible contender, and the central question then was: "Are the other cardinals ready for cowboy pope?" It remains the question now.
Read on to see what Allen has to say about Boston's Sean O'Malley and Washington's Donald Wuerl.
Photo: CNS