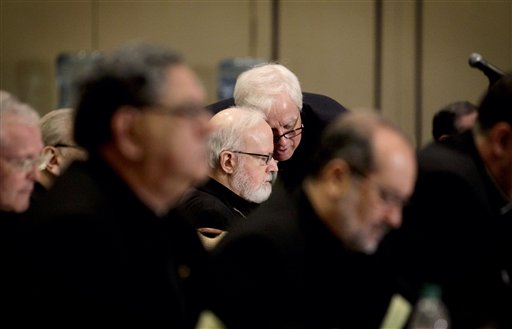 Here's something you don't hear about every day.
From the Washington Post: 
Shortly after arriving in Rome with his boss, dark horse papal contender Cardinal Sean O'Malley, Terrence Donilon received an e-mail. It was from his brother Tom, the national security adviser to President Obama.

"How's it going?" the top White House official asked.

The answer is: astonishingly well.

In the days leading up to Tuesday's conclave, O'Malley has built up momentum. The archbishop of Boston, a baritone-voiced Capuchin Franciscan who prefers the order's humble brown cassock, O'Malley has earned increasing attention from Vatican reporters and has a distant shot at becoming the first American leader of the Roman Catholic Church. That unexpected buzz has also raised a remarkable possibility for Terry Donilon, O'Malley's communications director and cabinet member.

One Donilon brother "working for the most powerful man on the planet and the other one could work for the most powerful religious leader on the planet?" mused Terry on Saturday, dressed in blue baseball cap and polo shirt in a café by the Vatican. "Yeah, that's kind of an interesting storyline."

For O'Malley, 68, it could also be a complicated one. The church has traditionally excluded Americans from papal consideration for fear of allotting too much influence and might to the world's superpower. Changes in geopolitics and the demands of the church have softened that unofficial ban, but it's unclear what it will mean for a potential symbol of world peace to have a close associate who is also the brother of an architect of Obama's foreign policy.

And while reports have emerged that Tom Donilon is expected to step down this year("I'm still fully engaged," he said), there is also a third Donilon brother, Michael. A longtime political aide to Vice President Biden, he would probably play a major role in a Biden 2016 presidential bid. (The brothers also have a sister, Donna, a nurse who is widely considered a saint.)

"This is an extraordinary circumstance, not one that we've ever thought about," Tom said.