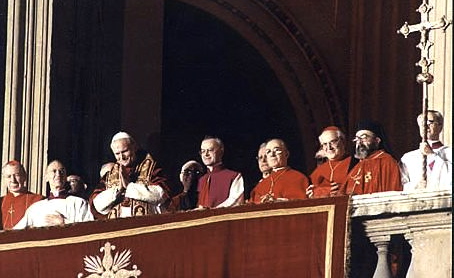 From Catholic News Service blog: 
The first clue to the identity of the new pope will be the announcement of his first name — in Latin, in the accusative case.

If he is not the one chosen, French Cardinal Jean-Louis Tauran, the top-ranked cardinal-deacon, will say, in Latin, "I announce to you a great joy. We have a pope: His most Eminent and Reverend Lordship, Lord …" followed by the Latin version of the chosen cardinal's first name.

If Cardinal Tauran says, "Lord Odilonem" everyone would know the new pope was Brazilian Cardinal Odilo Scherer of Sao Paulo. They would not have to wait for Cardinal Tauran to announce the new pope's last name.

But if he says Angelum, it would not necessarily mean the new pope was the media-touted Italian Cardinal Angelo Scola of Milan; there are three other Italian cardinals also named Angelo.

If the cardinal says "Ioannem," things would be much more complicated. Fifteen cardinals' names begin Juan, Jean or Giovanni, the equivalent of John.

Five cardinals' first names are variations of "Iosephum" (Joseph), five are named "Franciscum" (Francis) and five have names beginning "Antonium" (Anthony).

Only two are named after the apostle Peter, "Petrum," and three after the apostle Paul, "Paulum."

The 115 cardinals who will enter the Sistine Chapel for the conclave include four named "Georgium" or George and three who would be called "Carolum," like Blessed John Paul II, the former Karol Wojtyla.
There's more. Check it out. 
UPDATE: Print and save this handy guide to all the cardinals' names, in Latin!