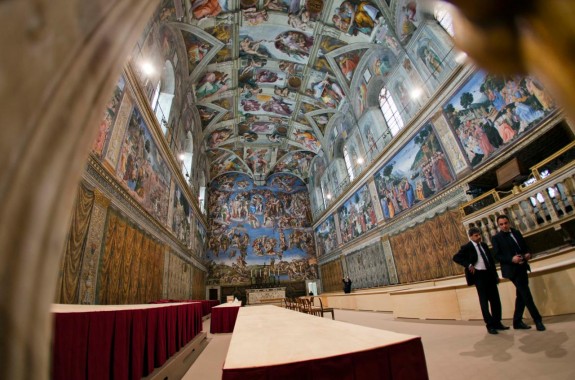 Technology is having a dramatic impact in how the faithful follow the coming election for pope, as AP notes: 
A pastor in Ontario wondered about behind-the-scenes politicking ahead of the conclave to elect the next pope. He could have read news reports or listened to briefings by the Vatican spokesman. Instead, he asked a cardinal. Less than an hour later, the response arrived.

"What I see is a real desire to know, and so evaluate, the papabili against criteria of qualities demanded by situations," wrote Cardinal Wilfrid Napier of Durban, South Africa, using the term "papabili" for cardinals seen as papal contenders.

The exchange occurred on Twitter, one of many online interactions that have made this papal succession unlike any other for Roman Catholics and observers of the church. While the election starting Tuesday will remain strictly secret, social media is providing a direct link to the events surrounding the succession, creating a virtual conclave that involves lay people in everything from voting to prayer.

"I think it's fabulous for the church," said Brother Martin Browne, a Benedictine monk in County Limerick, Ireland, who is following Vatican analysts and reporters on Twitter instead of watching general news coverage. "I think more people understand what's going on now because there's greater access to good information."

No one will be posting updates from inside the Sistine Chapel. The Vatican will activate electronic jamming devices so no one can listen in or report out. "You obviously can't have cardinals inside the conclave tweeting 'Uh-oh, trending right now: new young cardinal from wherever,'" said Greg Burke, a Vatican communications adviser.

But in the run-up to the ceremony, several cardinals have been interacting with the faithful on Facebook, Twitter and elsewhere — in some cases even during the interview ban the College of Cardinals imposed last week to prevent leaks about their daily meetings.

Cardinal Ruben Salazar Gomez, archbishop of Bogota, Colombia, tweeted that although God would ultimately choose the next pontiff, he wanted to know what his followers hoped for in a new pope.

"I would very much like your feedback," he wrote in Spanish. On zulumissions.org, a site for the Archdiocese of Durban, church officials have been providing updates for parishioners leaving messages and prayers for Napier. Along with daily meetings and informal dinners, several of the 115 cardinal-electors, some of whom had never met, say they're using Google to research each others' writings and church works.