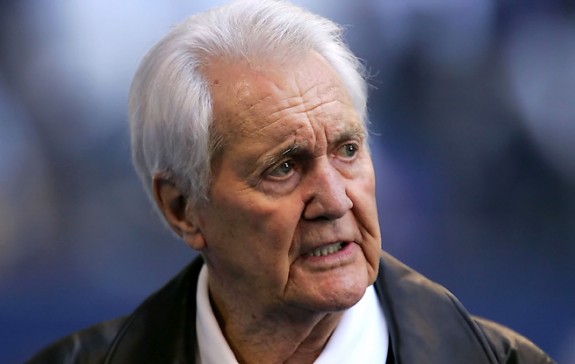 Pat Summerall, the sportscasting legend who died yesterday, struggled with alcoholism for much of his life.  He was also a born-again Christian.
After an intervention involving, among others, former NFL Commissioner Pete Rozelle, former CBS Sports President Peter Lund and former PGA Tour Commissioner Deane Beaman, Summerall checked into the Betty Ford Clinic in April 1992.

"I had no intention of quitting, I was having too good a time," Summerall said in a 2000 Associated Press story. "The prescribed stay at Betty Ford is 28 days. They kept me 33 because I was so angry at the people who did the intervention, the first five days didn't do me any good."

He had a liver transplant in April 2004. The lifesaving surgery was necessary even after 12 years of sobriety.

Summerall received the liver of a 13-year-old junior high football player from Arkansas who died unexpectedly from an aneurysm. The sportscaster had an emotional meeting with the teenager's family the following year.

Summerall often shared his testimony with Christian groups and told his story when speaking before other organizations. In his 2006 book, Summerall: On and Off The Air, he frankly discussed his personal struggles and professional successes.

In 2009, Summerall talked about his Christian faith and alcoholism at the Augusta Golf Breakfast at Warren Baptist Church. He was one of the event's most popular speakers, drawing more than 1,000 golf fans to the free breakfast during Masters Week that year, Greg Wilson, area director of the Greater Augusta Fellowship of Christian Athletes, said at last week's breakfast.

"I thought at the time, I used up my life. Someone had to die for me to live. That didn't seem fair," Summerall said at the breakfast about his liver transplant.