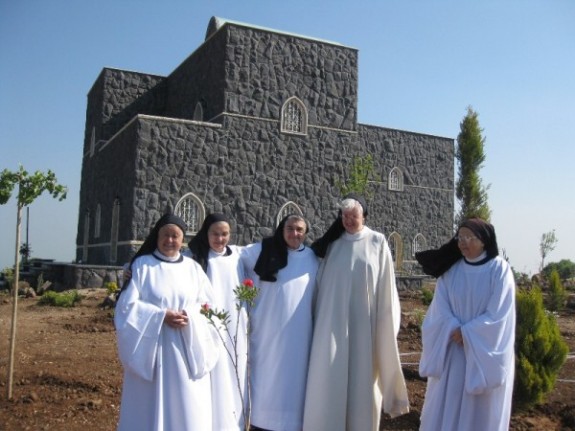 Eight years ago, a small group of Trappist nuns founded a monastery in Syria, in the countryside along the border with Lebanon. The atmosphere, while heavily guarded, remains tense. 
Why do they stay when every day puts their lives at risk?
An Italian news service recently interviewed the sisters.  Read the conversation here.
Last fall, Asia News profiled the sisters of Syria:
For the sisters, the monastery is a tangible sign of hope. "A place where God is worshiped in his real presence, both Eucharistic and Ecclesial, through prayers and brotherly communion, is a blessing for all."

However, "Our neighbours are discouraged," said one of the letters posted. "Even in our small village, civilians and young conscripts have been killed."

"The country," wrote another, "has become a battleground for adversaries that are bigger than Syria, people who came to fight in this land and this people to settle their own conflicts."

In each post, the Trappist nuns call on all Christians to pray for the Syrian population that welcomed them.

According to them, "people want justice, freedom, democracy but also jobs and a chance to go out with the family."

During the months of war, Muslims came to the monastery, not only to ask for basic items, but also for some comfort.

"Some young people began turning to us because they needed someone to help them think, grow and reflect," one nun said.

The nuns responded to such requests with their life, full of prayers and small actions, like growing vegetables in the garden and tending the orchard, which produces all sorts of fruit," another nun said.

Bearing witness in this simple fashion helps people have hope and stand up to hatred,  mindful of the traditions of this land where Christians and Muslims have lived in peace for centuries.

"Our trust in man comes from Christian hope and it is stronger than all the horrors," Sister Monica wrote. "Christians are called to bear witness to it in the world. Since we have been called to Syria, why leave?"
Keep these women in your prayers.