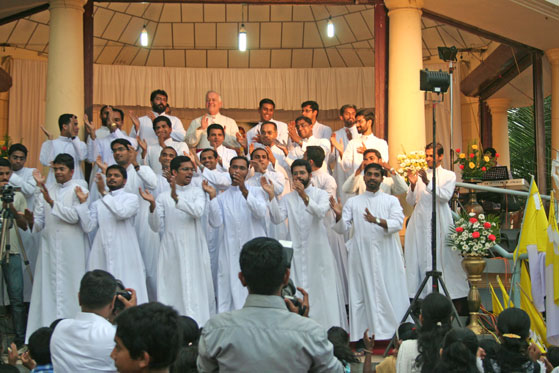 That's how Msgr. John E. Kozar, president of the Catholic Near East Welfare Association (CNEWA) —and, not insignificantly, my boss—describes the first stirrings of his own vocation in this comprehensive interview with Fr. Thomas Rosica of Salt + Light TV in Canada.
Msgr. Kozar is featured in the picture above, top center, sharing a joyful moment with the Vincentian Fathers of the Syro-Malabar Catholic Church in southern India.
For anyone curious about CNEWA—one of the best-kept secrets of the Catholic Church!—or how I keep myself busy when I'm not blogging or hanging out at my parish, check out the video below.  And be sure to visit our award-winning blog (er, my other blog) One-to-One.  You'll see how CNEWA is doing some great work in some of the most desperate corners of the world.