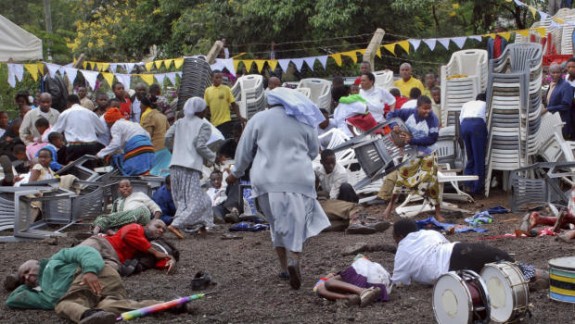 It happened in Tanzania: 
The woman died in hospital as a result of the bombing in the Arusha church just before Mass, which was attended by the papal envoy to Tanzania, said Magesa Mulogo, the regional police commissioner of Arusha.

Mulogo said eyewitnesses report that the bomb was thrown from a motorcycle into the church. Mulogo said the driver of the motorcycle has been arrested.

The Vatican's ambassador to Tanzania, Archbishop Francisco Montecillo Padilla, was attending the official opening of the church when the explosion occurred. He escaped unhurt.

Mulogo said the motive of attack is not known but Tanzania has in the recent past experienced sectarian violence between Christians and Muslims.
A woman died and 44 people were seriously wounded when a bomb exploded in a Roman Catholic church in northern Tanzania, a Tanzanian police official said Sunday