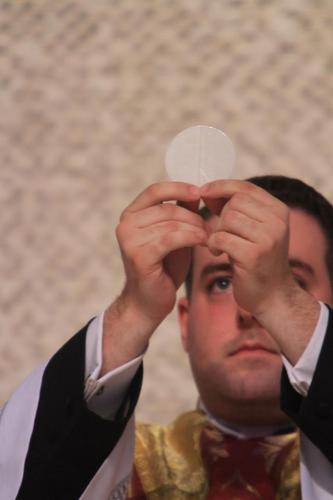 My friend and blog neighbor Fr. Michael Duffy marks a milestone: 
One year ago today I was ordained to the priesthood of Jesus Christ by Bishop William Murphy for the Diocese of Rockville Centre.  I celebrated the 11am Mass this morning here in my parish with the parishioners and many friends and family present.

I've told people that this year has been the best of my life.  It has been the most challenging as well, but the best.  Everything I have done this year has been a first:  my first funeral, my first sick call, my first time running out of Holy Communion at Mass (hopefully my last time too!).  It's also been a year of mistakes too.  None of us is perfect.  Projects fail, phone calls are missed, but the Lord makes up for my failings.  I've grown accustomed to saying I'm sorry.  I think that's a good thing in any vocation – not just mine.  I'll never apologize for the Church or for her teachings.  But I will when I know I haven't been the best I can be.  I now prepare myself to enter into my second year of priesthood.  While I've now had many 'firsts' I know the Lord will keep giving me fresh experiences and fresh encounters with the people and most importantly with Himself.

I am constantly urged by the people of God never to loose my fervor or excitement.  I can't see how that would be possible.  I LOVE what I do everyday.  Some days are more tiresome than others, some days are more rewarding than others.  Nonetheless, I love being a priest.  Standing at the altar and saying the words of consecration remain for me the most moving and sacred part of my day.  They remain for me the most challenging too.  To say "This is my Body" is a challenge like no other.  I've seen how priesthood can be physically taxing.  I've also become acutely aware of my own sinfulness as I say those most sacred words.  I'm more aware of my own humanity than I ever was before.  I'm constantly amazed and moved by the sanctity of those people I meet in the church, at Mass, and especially in the confessional.  The people I meet make me want to be not only a better priest, but a better man.
Read it all.  And congratulations, padre!  Ad multos annos!