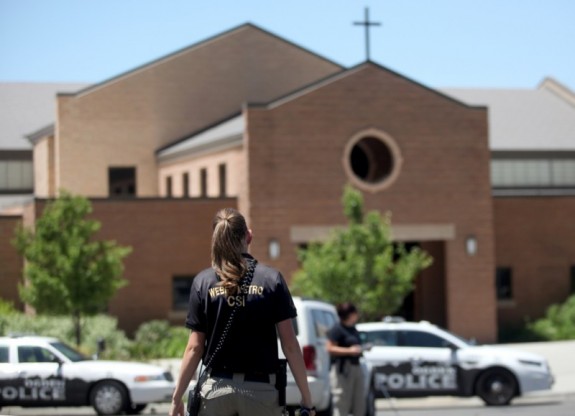 Everything was calm and peaceful at St. James Catholic Church on Sunday afternoon before a man walked in and shot his father-in-law in the back of the head.

Witnesses said they had just started to say a prayer when a man and woman walked into the church holding hands.

The victim and his wife "were sitting in the back pew off to the right side when their daughter and her husband walked in holding hands," said Leon Bedford. "He walked up to (the man) and leaned over and pointed his gun at him criminal style and pulled the trigger."

The gunman then turned around and fled onto Harrison Boulevard, Bedford said. Several members of the congregation chased him.

" It was very peaceful up to that point. Very quiet," said Rebecca Ory Hernandez. "We stood up to say a prayer and then there was the loudest noise. The sound … the sound. My ears are still hurting. It was so loud."

Hernandez said she immediately jumped on top of her 5-year-old son to protect him and then called 911.

"It was about 12:15," she said. "I ran over to the victim and pulled my scarf off and put it around his head. I was talking to him and just telling him to breathe and that everything was going to be OK. He was warm and his heart rate felt normal. He was pretty calm but there was so much blood."

Hernandez said she asked if anyone had any extra fabric and a man pulled off his T-shirt to lay underneath the victim's head.

"Everything happened so fast," she said.

Teresa Bedford said she went over to try to help the victim as well.

"They are good friends of ours. We are just devastated by this," she said. "There was blood everywhere. It was awful. His wife is a nurse and she was assisting him. A lot of people were crowded around trying to help."

Police are hunting Charles Richard Jennings Jr., 35. They said he fled in a stolen white GMC pickup.

Hernandez said the congregation was told by the priest that the suspect has been involved in domestic violence and has abused his wife.

"I'm assuming he brought her to church to watch him kill her father on Father's Day," she said. "How dare he come into our sacred little church and do something like this? He came in on Father's Day and (shot) his father-in-law and then like a coward he turned and ran away."
Late today, police announced that they had the suspect in custody. More details here.