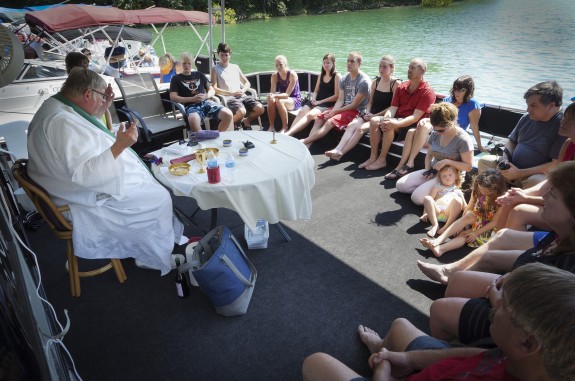 Father Joe Campbell's streak of consecutive boat Masses without a rain-out is intact.

Father Campbell held Mass June 15 for about 85 people enjoying Norris Lake on Father's Day weekend. It was his 22nd Mass on the water.

And just as before, word spreads among Catholic boaters on Norris Lake that if it's Father's Day weekend, Father Campbell must be on the water to celebrate Mass, assisted by an altar server, a reader and Eucharistic ministers.

Father Campbell, pastor of Our Lady of Perpetual Help Church in LaFollette and Christ the King Church in Tazewell, held Mass for the 11th year in a cove near Powell Valley Marina just outside LaFollette in near perfect conditions—calm water, blue skies, and temperatures in the 80s. His boat Masses are held twice a year, in June and October.

Some 85 people aboard 20 boats and a personal watercraft participated in Father Joe Campbell's annual boat Mass on Norris Lake on June 15.

After he picked up several Mass-goers at the marina, Father Campbell steered his pontoon boat toward the cove as boaters from across the lake fell in behind him.

As he reached the houseboat with a spacious covered bow that a parishioner donated for the day to serve as a marine altar, 18 other boats and a personal watercraft tied off next to the houseboat to receive Father Campbell's homily and holy Communion.