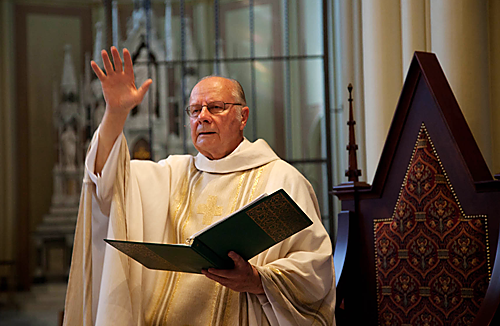 Here's something you don't see every day: in a letter, a priest nearing his 80th birthday explains his decision to leave both the priesthood and the Jesuit order after nearly half a century.
In a lengthy, moving letter to friends and colleagues, veteran Jesuit priest Bert Thelen explains his reasons for leaving the order and the priesthood and returning to the lay state. Thelen, who is almost 80 years old, has served as parish priest, provincial staff member and provincial during his 45 years of service.

Thelen credits the example of Christian living he has experienced during the last 14 years working at Creighton University and St. John's Parish for his decision. "It is you," he says, "who have freed, inspired, and encouraged me to the New Life to which I am now saying a strong and joyful 'Yes.' You have done this by challenging me to be my best self as a disciple of Jesus, to proclaim boldly His Gospel of Love, and to widen the horizons of my heart to embrace the One New World we are called to serve in partnership with each other and our Triune God …

"Why does this 'YES' to embrace the call of our cosmic inter-connectedness mean saying 'NO' to ordained ministry? My answer is simple but true. All mystical traditions, as well as modern science, teach us that we humans cannot be fully ourselves without being in communion with all that exists. Lasting justice for Earth and all her inhabitants is only possible within this sacred communion of being. We need conversion — conversion from the prevailing consciousness that views reality in terms of separateness, dualism, and even hierarchy, to a new awareness of ourselves as inter-dependent partners , sharing in one Earth-Human community.

"In plainer words, we need to end the world view that structures reality into higher and lower, superior and inferior, dominant and subordinate, which puts God over Humanity, humans over the rest of the world, men over women, the ordained over the laity. As Jesus commanded so succinctly, 'Don't Lord it over anyone … serve one another in love.' As an institution, the Church is not even close to that idea; its leadership works through domination, control, and punishment. So, following my call to serve this One World requires me to stop benefiting from the privilege, security, and prestige ordination has given me. I am doing this primarily out of the necessity and consequence of my new call, but, secondarily, as a protest against the social injustices and sinful exclusions perpetrated by a patriarchal church that refuses to consider ordination for women and marriage for same- sex couples …"
Read the entire letter at the link.