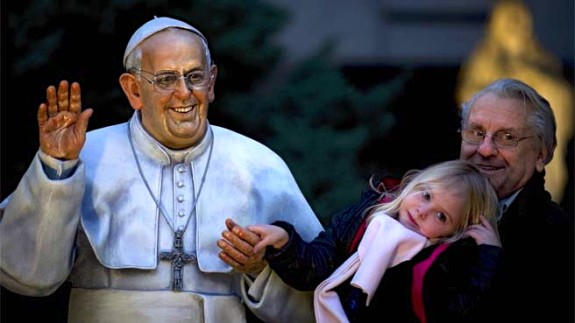 Attractive, isn't it?
A life-size sculpture of Pope Francis was installed yesterday on a patio outside Buenos Aires' cathedral, where Jorge Bergoglio presided over daily Masses before he became pope in March.

The sculpture, made of fiberglass and resin, is in a courtyard closed to the public, but can be glimpsed from the street, where the pontiff appears to be smiling and waving.

It is part of a project by artist Fernando Pugliese to populate Buenos Aires with variously sized sculptures of the first pope from Latin America, in public and private spaces related to Bergoglio's life in Argentina.

"I've known Jorge Bergoglio for 14 years. I've always admired him and his very humble personality fascinates me," the artist told reporters.
The pope, however, wasn't impressed:
Argentinean newspaper Clarín reports that the minute Francis found out about the statue he telephone the cathedral in person and demanded it be "removed immediately."

The statue is the work of artist Fernando Pugliese, who has created other monuments dedicated to John Paul II and Mother Theresa and also designed Buenos Aires' religious theme park, Tierra Santa (Holy Land).

What remains to be seen now is whether the Pope's veto will also extend to the museum which heads of the Argentinean Church wanted to open inside the cathedral. Clarín pointed out that the project, which was announced two weeks ago, has currently been suspended because more objects still need to be added to the collection.