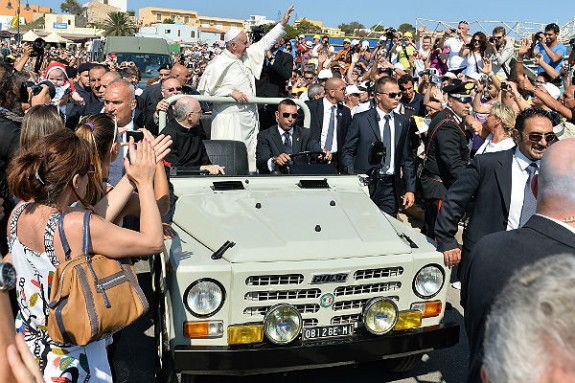 Is this a sign of things to come?
From the Los Angeles Times:
Pope Francis is on the Mediterranean island of Lampedusa, where instead of tooling around in the popemobile, he's making his rounds in a borrowed 20-year-old Fiat Campagnola.
He also has let it be known how he feels about priests and nuns who drive fancy cars: It pains him. That has to be a kick in the pants for Dieter Zetsche, CEO of Mercedes-Benz, who just last week personally handed the pope the keys to a new Mercedes popemobile.

That was Tuesday. On Saturday, the pope told a group of priests and nuns that cars "are necessary. But take a more humble one." He said it "hurts" him when he sees a priest or nun in the "latest model car; you can't do this." He told his audience to drive a cheaper car and pass the savings on to feed starving children.

Mercedes has provided a number of popemobiles over the years, starting in 1930 with a Nurburg 460 pullman saloon for Pope Pius XI, according to the carmaker.

In a news release following his visit with Pope Francis, Zetsche said that "by providing the popemobile, we will continue to accompany" Pope Francis on "his travels in the future," adding that the tradition was "a huge source of pride to us."

Mercedes also provided for Pope Benedict a popemobile in 2011 that had a built-in oxygen supply behind the bullet-proof plexiglas, a white leather seat with gold trim that was raised into place by a hydraulic lift and armor-plated side panels and undercarriage to withstand bomb blasts. According to the U.K. news outlet the Telegraph, the cost was about $450,000.