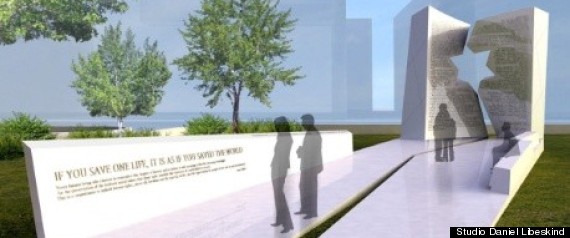 And no, that's not another headline from The Onion.  People are seriously objecting to the use of a religious symbol in the memorial.
Plans for a Holocaust memorial at the Ohio Statehouse have stirred a debate over the separation of church and state that may lead to a lawsuit because a focal point of renowned architect Daniel Libeskind's design is the Star of David.

Plans for the memorial in in Columbus, Ohio, by Libeskind, the son of Holocaust survivors and the master architect behind the reconstruction of the World Trade Center, feature two walkways leading to a set of 18-foot panels that meet and form a cutout in the shape of the six-point star, a symbol closely associated with Judaism.

"Since the Star of David is a religious symbol and a secular government is not supposed to be promoting religion, especially when there are other perfectly secular alternatives, we're objecting to that religious symbol," said Dan Barker, co-president of the Freedom From Religion Foundation, based in Madison, Wis.

Barker said his organization, made up of 19,000 atheists, agnostics and skeptics, takes issue not with the memorial itself, but with its use of the star. After receiving complaints about the proposed plans from some of his members last month, Barker wrote to the Capitol Square Review and Advisory Board, which maintains the Statehouse, and requested that the memorial feature something other than the star.

"It shouldn't single out just one group of people who was harmed during that tragedy," said Barker. The Nazi genocide claimed an estimated 6 million Jews, plus millions more Soviets, Poles, Slavs and homosexuals.

But the board approved the design in a vote of 8-1 on Thursday, moving the plans forward.

Richard H. Finan, a former state senator and the chairman of the Capitol Square Review and Advisory Board, cast the lone vote against the design. Star or not, he has long objected to the memorial itself, arguing that it doesn't fit the Civil War era themes of the Statehouse.