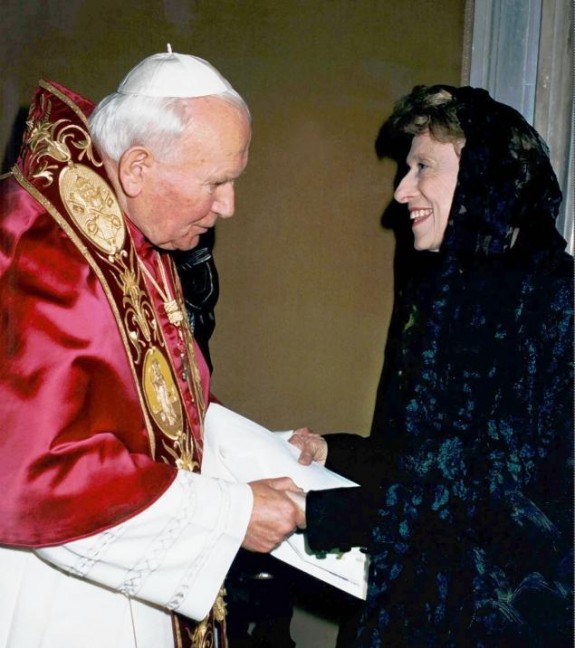 The history-making congresswoman and former US ambassador to the Vatican—also the mother of Cokie Roberts—has died.
Lindy Boggs, who succeeded her husband in the House of Representatives after his plane crashed in Alaska and who went on to serve nine terms on Capitol Hill, notably as a champion of women's rights, died on Saturday at her home in Chevy Chase, Md. She was 97.

In 1976, Mrs. Boggs became the first woman to preside over a Democratic National Convention. Three years earlier, she had become the first woman from Louisiana elected to the House.

Her victory came in a special election in which she campaigned to succeed her husband, Hale, a powerful member of the House who had served there 28 years, the last two as majority leader. He was presumed dead when a plane in which he was a passenger disappeared while he was campaigning with Representative Nick Begich in Alaska in the fall of 1972.

Mrs. Boggs gained her husband's seat in no small part on the strength of his name. The special election was held in March 1973; Hale Boggs had been re-elected the previous November, even though he was presumed dead.

But Mrs. Boggs's own experience did not hurt. She not only knew the ways of the capital as an astute political wife from a family whose political lineage reached back to George Washington's time, including governors of Louisiana and Mississippi.

Her own children found public renown in their own right: her daughter, Ms. Roberts, as a Washington journalist for ABC and National Public Radio; her son, Thomas Hale Boggs Jr., as an influential Washington lawyer and lobbyist; and another daughter, Barbara Boggs Sigmund, who died in office as mayor of Princeton, N.J.

In her 1994 memoir, "Washington Through a Purple Veil: Memoirs of a Southern Woman," written with Katherine Hatch, Mrs. Boggs wrote that she had learned an important lesson as a political wife and as a politician herself: "You played the Washington game with confidence and authority and graciousness."

Indeed, the velvet Southern charm she had absorbed growing up on two Louisiana plantations was her not-so-secret weapon.

She displayed it early in her first term when the House banking committee was composing an amendment to a lending bill barring discrimination on the basis of race, age or veteran status. She added the words "sex or marital status," ran to a copying machine and made a copy for each member.

In her memoir she recalled saying: "Knowing the members composing this committee as well as I do, I'm sure it was just an oversight that we didn't have 'sex' or 'marital status' included. I've taken care of that, and I trust it meets with the committee's approval."

Thus was sex discrimination prohibited by the Equal Credit Opportunity Act of 1974.
Of her role as ambassador to the Vatican:
In 1997 President Bill Clinton appointed her ambassador to the Vatican. The post was known for its sober decorum, but Mrs. Boggs would have none of that. The morning after she arrived to take up the job, she was informed that she was to be seated that night at a table filled with nothing but cardinals. She mulled that over and said, "I think I'll wear red."

At another point, she exchanged three phone calls in one day with an Italian archbishop on a minor piece of Vatican diplomacy. Picking up the receiver for the last time, she said, "Dahlin', does this mean we're going steady?"
The Archdiocese of New Orleans posted the following on its Facebook page this morning:
We learned of the death of the Honorable Lindy Boggs this morning. I have been in touch with her family to offer the prayers and condolences of the people of Louisiana and especially New Orleans.

Mrs. Boggs was an active member of St. Louis Cathedral Parish and her funeral Mass will take place at the Cathedral at a time to be announced later.

We thank God for her life of faith and her life of service to the people of Louisiana and beyond.

May she know the fullness of God's peace and Love.
Eternal rest grant unto her, O Lord, and let perpetual light shine upon her…