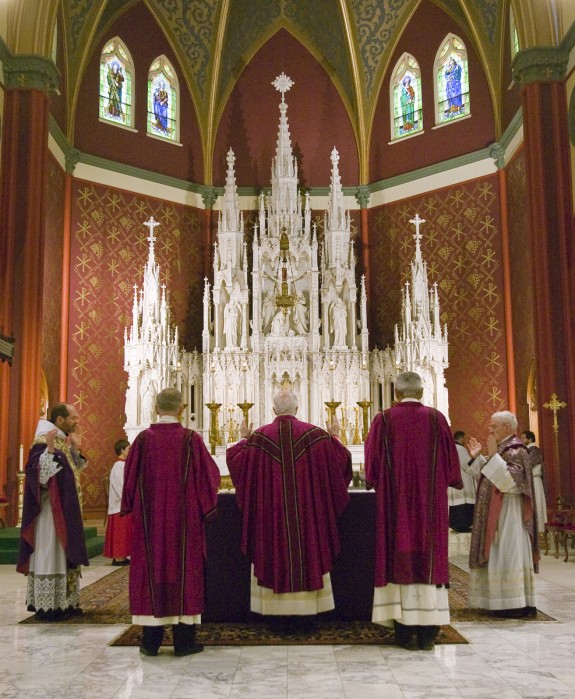 That's the provocative headline to this post by Msgr. Charles Pope, who raises some compelling points about the priest's orientation during the celebration of Mass.
There are many factors that have fed the crisis of the leadership among the clergy. But I propose that liturgical orientation is both emblematic of the crisis of leadership and also fuels it.

While a priest is called to love his people, speak to their hearts and even to learn form them, he is most especially tasked to lead them to God. And while, in the Liturgy of the Word, it makes sense that he turns to them to instruct and engage them, there ought to be a moment when he turns to God and leads his people toward God.

The Eucharistic Prayer is surely this time. As priest, he leads. Acting in persona Christi, he leads the people, (for Christ said, "follow me") out to Calvary, to the death and resurrection, to new Life. In this Jesus, acting through the priest, also leads back to the Father. He is leading us somewhere.

But leaders do not walk backward facing their followers. They are out front, at the head of the procession. One of the Collects of the Breviary asks that the humble flock may reach where the brave Shepherd has gone before.

But there is usually very little sense of leadership in the current liturgical environment. There seems the unspoken demand that the leader, our celebrant, focus on us, rather than God. His job is to please and enrich us, rather than point to God and insist that we follow. Leadership suffers under this kind of expectation of "enriching" and affirming, rather than summoning to discipleship and pointing unambiguously to God.

The direction of the Liturgy should be an "onward and upward" trajectory. But too often today it is inward, and it is difficult to perceive a motion upward to God or outward to evangelization.

I realize that a post like this will generate considerable controversy. But remember that this is only a discussion. I do not argue for sudden or radical shifts in our liturgical stance, only that we should continue to discuss it and explore various options. I am only a priest, not a bishop and I do not argue that priests act independent of their bishop in significant matters such as this. Further, some settings are better for a change of stance than others. Great pastoral discretion is required in matters like these.

Neither do I argue for a return to Mass wholly facing the altar as was done in the past and still often is in the Extraordinary form. The Liturgy of the Word is authentically directed to the people of God for their edification, instruction and attention. It ought to be proclaimed to and toward them, as is fitting to its purpose and end. But the Eucharistic Prayer is directed to God, and not the celebrant is leading the faithful on procession to God. St. Augustine often ended the his sermon and the Liturgy of the Word by saying, "Let us turn to the Lord" and he then went up to the altar, facing it and leading the people to God.