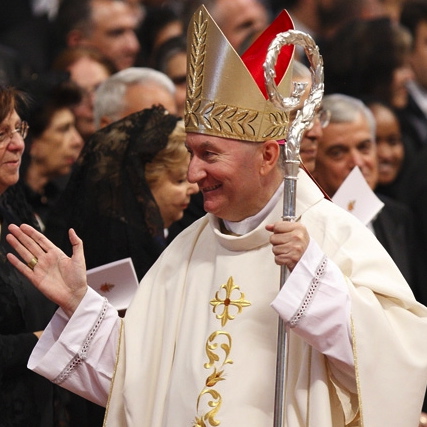 It could happen as early as tomorrow, according to John Allen at NCR:
Multiple reports suggest Pope Francis intends to name 58-year-old Italian Archbishop Pietro Parolin to the key position of Secretary of State, traditionally the most important figure in the Vatican after the pope himself.

Although the pope is the head of state, the Secretary of State generally functions as the Vatican's head of government, both for internal church affairs and for diplomatic relations, making him, effectively, the prime minister.

Currently the papal nuncio, or ambassador, in Venezuela, Parolin is a career Vatican diplomat who's been involved in shaping Rome's response to virtually every key geopolitical challenge during the last two decades.

Parolin is also widely seen as a talented and efficient administrator who served from 2002 to 2009 as the undersecretary for relations with states, the No. 3 position in the Secretariat of State. In that role, he often functioned informally as the Vatican's primary interlocutor with the outside world.

Veteran Vatican writer Andrea Tornielli on Friday reported that Francis could announce the choice of Parolin as early as Saturday.

Assuming the reports are accurate, the choice would appear to confirm at least two important points about the direction Francis intends to set.
Read on to see what they are.