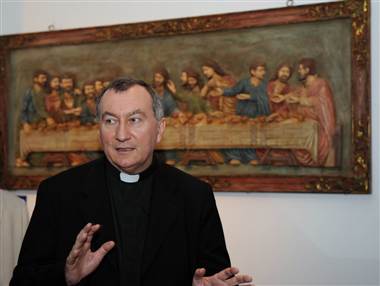 From NBC News:
The Vatican's new secretary of state has said that priestly celibacy is not church dogma and therefore open to discussion, marking a significant change in approach towards one of the thorniest issues facing the Roman Catholic Church.

"Celibacy is not an institution but look, it is also true that you can discuss (it) because as you say this is not a dogma, a dogma of the church," Archbishop Pietro Parolin said in response to a question during an interview with Venezuelan newspaper El Universal.

"The efforts that the church made to keep ecclesiastical celibacy, to impose ecclesiastical celibacy, have to be taken into consideration," Parolin said. "One cannot say simply that this belongs in the past."

As secretary of state, Parolin is the head of government and seen as the most powerful official at the Vatican after the pontiff.

Many of Pope Francis' predecessors had declared the subject off-limits.

"There has been a lot of resistance to discussing the issue of celibacy," said Abigal Frymann, online editor and former foreign editor with U.K.-based Catholic weekly The Tablet. "[Parolin's comments] open up a fascinating argument."

Father Federico Lombardi, the director of the Holy See's press office, said Parolin's comments were "in line with the teachings of the church."
UPDATE: John Thavis notes:
The question of priestly celibacy has long been a lightning rod at the Vatican. In 2006, Brazilian Cardinal Claudio Hummes made a similar statement, saying that although celibacy was "part of Catholic history and culture, the church could review this question, because celibacy is not a dogma but a disciplinary question."

Cardinal Hummes made the comment in an interview in Brazil shortly before assuming his post as head of the Vatican's Congregation for Clergy. Within a few hours of his arrival in Rome, he was pressed to issue a statement declaring that priestly celibacy was an ancient value in the church and was not up for discussion.

Archbishop Parolin, who is ending his term as papal nuncio in Venezuela before assuming his new post in mid-October, said it is a good thing for the church to implement a "more democratic spirit, in the sense of listening carefully, and I think the pope has indicated this as an aim of his pontificate, a collegial leadership of the church in which all requests can be expressed."
UPDATE II: NBC Nightly News, anchored by that Good Catholic Boy Brian Williams, featured the story below rather prominently Wednesday night. It includes a soundbite from FOB (and married priest) Fr. Scott Hurd.
Visit NBCNews.com for breaking news, world news, and news about the economy