Thinking of making the trip? You better like crowds.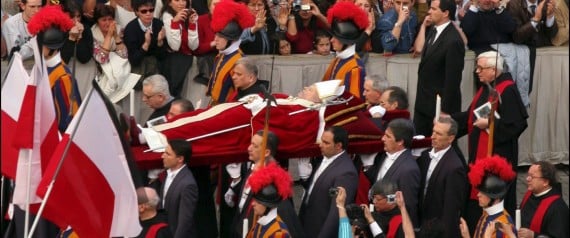 Vatican officials say they expect next year's celebration for the canonizations of former popes John Paul II and John XXIII to be attended by as many as 100 heads of state in what is likely to be the biggest draw in the city since John Paul's funeral in 2005.

The crowd estimates were made Tuesday (Oct. 22), the feast day for John Paul. This will be the last time he will be venerated as Blessed Pope John Paul II; after the canonization ceremony on April 27, 2014, he will be known as St. Pope John Paul II.

John Paul's 2005 funeral may have been the single largest gathering in Christian history, with estimates as high as 4 million mourners gathered in the Italian capital, along with at least 80 presidents, prime ministers and monarchs.

Around 1 million faithful were estimated to have been on hand for the 2011 Mass that beatified John Paul, and nearly that many for the conclave that resulted in Cardinal Jorge Bergoglio becoming Pope Francis earlier this year.

Next year's canonization ceremony — which is expected to draw tens of thousands of visitors from John Paul's native Poland — should surpass both those events in terms of attendance, according to city officials.