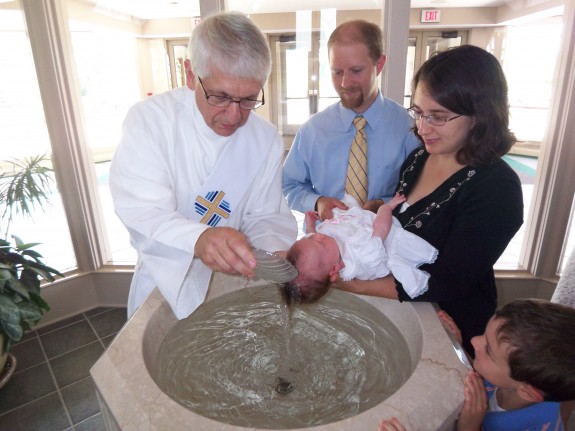 Cathy Lynn Grossman at Religion News Service takes a closer look at what's causing this, across many denominations:
Last month, Pope Francis gave the sacrament a boost when he called a pregnant, unmarried woman to encourage her faith and offered to baptize her baby. While his main message was anti-abortion, his call also reminded Catholics that children of unmarried parents are welcome in the church.

Yet, it seems unlikely that even these leading voices in Christendom will reverse the nose-diving rates of baptism in the United States, where fewer people seem to think it's essential to have "God in the middle."

Set aside that one in five Americans today say they have no religious identity. Even among those who do claim a denominational label, "there is a de-emphasis on practicing faith," said the Rev. Frank Page, president of the Southern Baptist Convention's Executive Committee.

"People want God but they're not happy with churches," he said, so rites such as baptism are victims of an "anti-denominational, anti-institutional, even anti-church era."The SBC, which considers baptism a key marker of Christian faith and also denominational vitality, tallied 314,959 baptisms in 2012 — a low not seen since 1948…

…When a couple opts not to get married in a church, it's an early sign that a couple may view the blessings of faith as optional for their family, said Mark Gray, senior research associate at Georgetown University's Center for Applied Research in the Apostolate.

Gray tied the sliding baptism rate to the decline in marriages officiated by a priest. The Catholic Church regards marriage as a sacrament to be celebrated in the sacred space of a church.

There's a disconnect at the get-go "if you are getting married at a country club or the beach," said Gray. "If you haven't been married in a church, you may be less likely to present your child for baptism."

In 1970, there were 426,000 marriages in U.S. Catholic churches — a full 20 percent of all U.S. marriages that year. By contrast, in 2011, there were 164,000 such weddings — only 8 percent of all marriages. But in both years, Catholics were 23 percent of the national population.

Catholic baptism rates fell at a parallel pace — from just more than 1 million baptisms in 1970 down to 793,103 baptisms in 2011.
There's much more. Read it all.