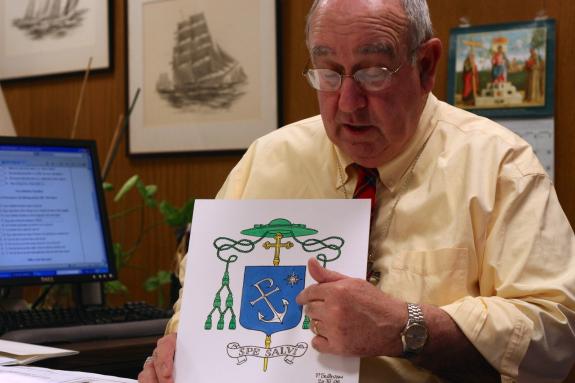 If you don't know his name, you do know his work. Deacon Sullivan designed the coat of arms for numerous bishops around the United States — a legacy that will live on.
His obit: 
Deacon Paul Joseph Sullivan, 72, passed away peacefully Sunday, November 24, 2019, at home. Born in Providence, RI, to the late Isabel and Allyn Sullivan, Paul was the devoted husband of Kathleen M. Sullivan and adored father of Ryan M. Sullivan.

In everything he did, Paul was an exemplary man of God, gentleman, and family man. He most enjoyed reading and talking on the beach, feet in the ocean, surrounded by his family and friends.

A proud graduate of Providence College, Paul devoted his adult life to service, family, and his strong faith. He was humbly dedicated to the Diaconal vocation, especially working with the members of St. Thomas More Parish in Narragansett and supporting his brother Deacons of the Diocese of Providence.

Visiting hours will be held on Friday, November 29, 2019, from 4-7 pm at St. Thomas More Church, Narragansett, RI. A Mass of Christian Burial will be celebrated at St. Thomas More Church, 53 Rockland Street, Narragansett, RI on Saturday, November 30, 2019 at 10:00 am.

In lieu of flowers, please consider donating to St. Jude's Hospital https://www.stjude.org/donate/donate-to-st-jude.html.
I've posted about his work in the past, and had the good fortune to meet him several years ago when I spoke to the deacons of Providence at their convocation.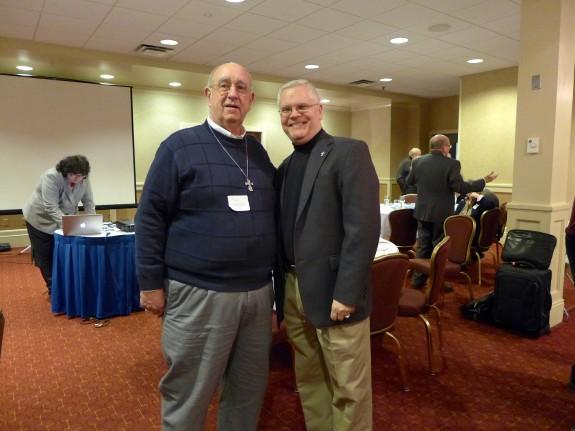 From a profile in 2009:
Deacon Sullivan was just a young boy when he first became interested in the art of heraldry.

A family friend, the Rev. Thomas Maloney, was chosen to serve as an auxiliary bishop of Providence in the 1960s. He had just returned from Europe and was visiting with Deacon Sullivan's family as he prepared for his ordination.

"He had been the rector of the American College of Louvain," Deacon Sullivan recalls. "All the stuff he brought home with him just fascinated me as a 10-year-old. I must have drawn his coat of arms a hundred times."

Although Bishop Maloney passed away from cancer only two years after his ordination, the heraldic spirit never flickered for the young Sullivan.

In the years to come he would acquire a personal library on the subject.

He began to advertise his services, and in 1976, he was commissioned to design his first achievement for Bishop Eugene Gerber of the Diocese of Dodge City, Kan.

The following year, he was commissioned for two more designs, and four the following year. He has expanded to creating 31 over the course of a year, and all over the world, from Kenya to Guyana.

What's on Deacon Sullivan's drawing board now?

In his art bag are designs for the new auxiliary bishop of Joliet, Ill., and the new archbishop of Milwaukee.

"This just fascinates me," Deacon Sullivan says of his craft.
Well done, good and faithful servant.
Eternal rest grant unto him, O Lord, and let perpetual light shine upon him…