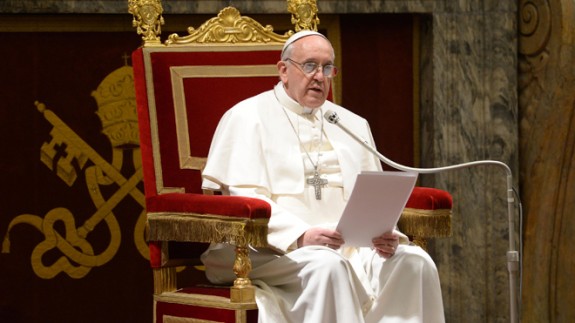 And Rocco Palmo has the first take-away:
In the latest proof of his desire to reach out from behind the walls – and along the way, (again) remind the Establishment he inherited who's Boss – today's cover of Italy's largest-circulation daily indeed blared a second major interview in 12 days with the Pope, this time given to one of the country's most prominent atheists.

As Eugenio Scalfari tells the story, the pontiff called the La Repubblica founder out of the blue to arrange a meeting as a follow-up to their exchange of letters over the summer. With Francis going over his schedule in front of him – "I can't on Wednesday, Monday either; would Tuesday work for you?" – the Pope booked the Domus sit-down on his own.

Saying he had no idea how to end a call with the Pope, when Scalfari asked if he could "hug [Francis] through the phone," Papa Bergoglio replied "Sure, I'm hugging you too. Then we'll do it in person. See you soon." Once they came together – with jokes about trying to convert each other as they first met – the 4,600-word extravaganza that ensued touched on everything from the journalist's non-belief to movie picks, politics and a "court" mentality in the church which Francis termed "the leprosy of the papacy," admitting that church leaders were "often… narcissistic, flattered and badly excited by their courtiers."
And that's just for starters. You have to read it all. And check out the full English text.
There's a lot to absorb, and it's clear that change is in the wind. The final paragraphs offer this:
While walking his visitor to the door of the Vatican guesthouse, in a sudden aside the Pope told Scalfari that his reforms "will also speak of the role of women in the church," reminding the interviewer that "the church is feminine."

The host didn't specify his intended result, but Scalfari closed his piece with a rather bold assessment: "This is Pope Francis. If the church becomes as he thinks and wants, it will be an epochal change."