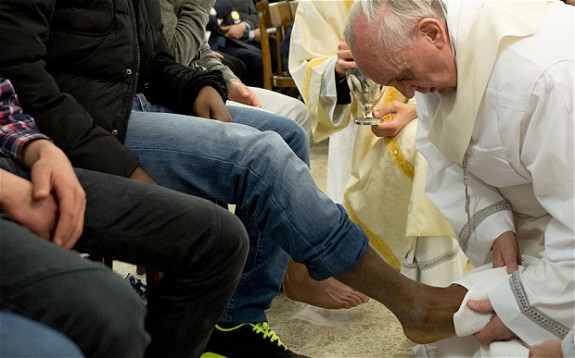 Good question.
I got an e-mail today from a deacon friend on the West Coast:
Hey, are you aware if Pope Francis has ever mentioned deacons in any way?  I haven't seen anything with a mention of deacons and I'm curious about your thoughts here…
A few people have written to me about that, usually with irritation.  "Why hasn't he mentioned deacons?  Why doesn't he address us in talks when he mentions priests and nuns?  Are we being marginalized? Doesn't he care about us?"
Deacons can get that way.
First off, lest we forget: There's a prominent mention of deacons at the beginning of his encyclical, Light of Faith, addressing the document:
ENCYCLICAL LETTER
LUMEN FIDEI
OF THE SUPREME PONTIFF
FRANCIS
TO THE BISHOPS PRIESTS AND DEACONS
CONSECRATED PERSONS
AND THE LAY FAITHFUL
ON FAITH
But other mentions—in public addresses, speeches, letters, even as a passing reference in his now-famous interviews—are few and far between.  People have floated different theories about that. Maybe, the thinking goes, he hasn't had much experience with permanent deacons (there are only a few hundred in Argentina, compared to over 17,000 in the United States); or maybe they just aren't on his radar screen.
Maybe. But this pope isn't like any other in modern memory. It struck me from Day One that the primary method for Francis' teaching isn't words, but actions. Watch what I do, he is saying. I greet the outcasts, embrace the forgotten, bless the refugees, wash the feet of those in prison. I don't live in a palace or dress like a monarch. I'm here with you. Head into the streets. Follow my example. Share my love, my joy, my outreach, my compassion, my hope.
Here's what I'm doing. I've given you a model to follow. Now go and do likewise.
The pope who chose the name of a deacon has done something that few people have noticed: he has lived his papacy first and foremost as a deacon, a servant to others. 
Bill Ditewig captured it beautifully shortly after the election:
This man IS a deacon in everything he is modeling and teaching us.  He made the decision to change his stole before washing feet: he reconfigured his stole into the diaconal mode.  That's a conscious decision, telling me that he wanted to be sure that his actions would be seen as diaconal in form and in substance.

Not unlike previous popes, Francis speaks from his own experience and that, frankly, is generally priestly.  But is it such a stretch to take his absolutely wonderful Chrism Mass homily — focused intentionally on the priesthood — and adapt it to deacons?  I think not.  Here's the full text: for the most part, you could simply replace "priest" with deacon, and "dalmatic" for chasuble, and you have a perfect exhortation to deacons.

From his appreciation of carrying the people on our shoulders and in our hearts, to his emphasis on "unction, not function," there is a strong diaconal message for all people, and certainly a model for those of us humbly honored to be a part of the Order of Deacons.

Like his namesake Francis of Assisi, our Francis "gets" the diaconate, thinks like a deacon, and acts like a deacon — whether he "names" us or not.

Welcome aboard, Holy Deacon Francis!
Amen.
Those who are waiting for the Bishop of Rome to pay attention to deacons are missing it.  He's already paying attention—and has been paying tribute to the sacrificial life of the servant clergy since the beginning. (His frequent slams at clericalism aren't just addressed to priests and bishops. Deacons, are you listening?)
Perhaps he hasn't made reference to deacons because he doesn't feel he has to. It's there in everything he is doing.
Watch. Listen. Learn.
Yeah, it would be nice to get a little "attaboy" from the boss—a nod, a word, a sense that he knows we're among the laborers in the vineyard. But if the diaconal life has taught us anything, it is this: it's not about us. We are the ones in the background, the guys who do the dishes and clean the cups.
Meantime, here's a beautiful rendition of what might be deemed the diaconal anthem—sung at many ordinations and Masses of Thanksgiving. It's a message worth hearing again.  I can well imagine Pope Francis, the servant of the servants of God, singing this to all of us who make up the Body of Christ.