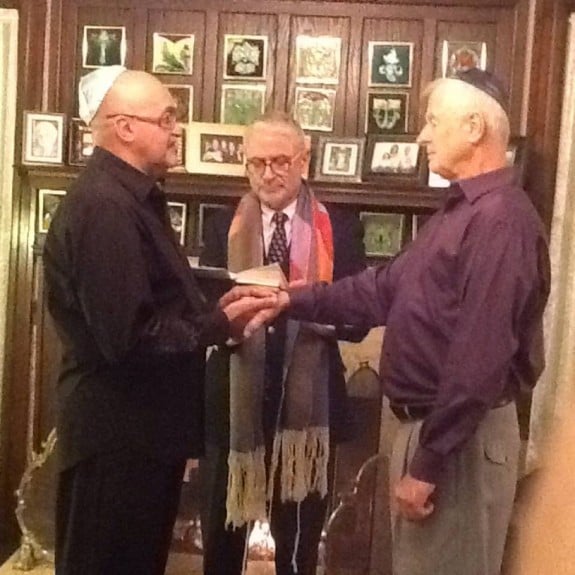 From Huffington Post: 
Retired Catholic priest the Rev. Tom Pivinski and his partner of over 20 years, Malcolm Navias, celebrated a beautiful interfaith wedding on Monday at their home in Asbury Park, New Jersey. They wed on the very first day that same-sex marriage was allowed to happen in New Jersey after Governor Chris Christie dropped his appeal to overturn legalization.

Pivinski had already officiated three marriages in the wee hours of Monday morning, as couples didn't want to hesitate a minute more than they had already been waiting to finally become husband and husband or wife and wife.

He told the Ashbury Park Press (APP), "I think it's wonderful. I am just very grateful that the state has recognized the equality of all people."

In the evening, he went home to join hands with Davias in a Jewish wedding ceremony officiated by Rabbi Kraus, who blessed them as they stood wrapped in a Tallis, a prayer shawl.
This has been getting a lot of attention over the last few days, and Pivinski's name has popped up in numerous press reports, all of which identified him the same way: "retired Catholic priest." Some have also noted that he ministers now at an Episcopal parish. It would be helpful, I think, if the Diocese of Paterson, New Jersey (which ordained him as a Catholic priest in 1975) spoke up about this and clarified his status—which, I think, is probably something other than a Catholic priest in good standing.
To identify him simply as a "retired Catholic priest" does a disservice to the thousands of holy and faithful retired Catholic priests who continue to uphold the teachings of the Church for which they were ordained.
UPDATE: Canon lawyer Ed Peters takes note of all this concludes:
Some casual googling and leafing thru scattered issues of the Official Catholic Directory confirms that Thomas Pivinski was indeed a Catholic priest (which means that sacramentally Pivinski still is a priest per c. 845 § 1) some fifteen or twenty years ago in Paterson NJ, though he might not still be a member of the clerical state (c. 290?), and that Pivinski ministers Anglican these days. Whatever exactly one is to make of that…

…Here's what is new: the affront to truth that Pivinski has worked is worse than that caused by non-believers who (perhaps through no fault of their own) can't see what's wrong with 'same sex marriage', and even worse than Catholics who should be able to see what's wrong with 'same sex marriage' and choose not to do so. For Pivinski is an alter Christus (regardless of whether he is still a cleric, and I agree with Dcn. Greg that Paterson should simply tell us what Pivinski's canonical status is) which means that Pivinski received the sacrament that configures a man most closely to Christ the Great High Priest and ever-chaste Bridegroom of his Church. What could be a greater calling than that? Nothing.