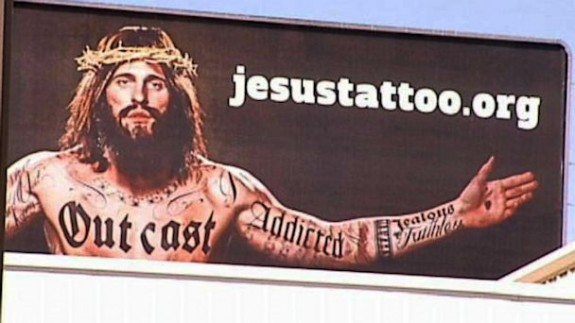 This billboard is turning a few heads in Texas: 
A billboard showing a tattooed Jesus Christ has stirred up quite a bit of buzz in the heart of the Bible Belt.

The ad, which is the work of the website Jesustattoo.org, popped up along a West Lubbock, Texas, highway, and it's got people talking. It shows a man, ostensibly Jesus Christ, with outstretched arms tattooed with such words as "Outcast," "Addicted, "Jealous."

"I don't like the picture. I think it's very derogatory," a local-area resident told the CBS affiliate KEYE-TV.

On the website, a video casts Jesus as a tattoo artist and shows several  tattooed individuals approaching him to reveal their sinful markings. A woman with "Self Righteous" tattooed on her chest  and a young disabled boy with the word "Outcast" tattooed on his body come forward.
The organization behind this effort is not affiliated with a particular church, and on its website says: "It really is as simple as it appears. We are a small group of people humbled by the love of Jesus. We are not a church. We are not selling anything. We encourage you to tell as many people as possible. That's it."
The message is provocative and potent. Check out the video accompanying the billboard below.