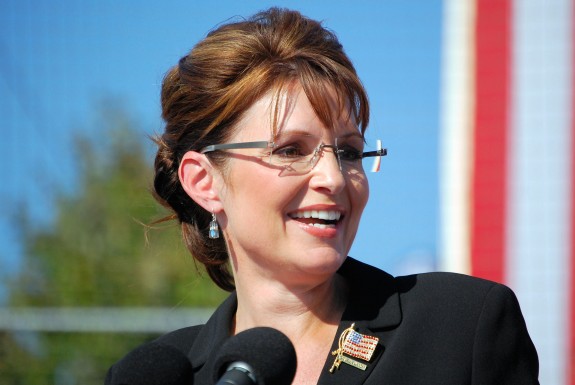 National Review takes note of an item in a recent interview with USA TODAY, wherein the former candidate for Vice President says:
[Billy Graham's] message transformed my mom's life," Palin, one of the dinner's speakers, said in an interview with USA TODAY.

"In the 70s, she would tune into the Billy Graham crusades, televised. My mom was raised Catholic, and she . . . was yearning for something more," she said. "His invitation for people to know that they could have a personal relationship with Jesus Christ — my mom understood that from the way that he could articulate it. She became a Christian, led the rest of the family to Christ, and that I believe transformed our family."
The implication, of course: Catholics aren't Christians.
Bigotry? No. I think Palin is just showing garden variety ignorance here. Over at the blog Crossed the Tiber, commenters are noting this sort of language is common among some Protestants. And, frankly, a lot of Catholics aren't much better. I remember a woman who came to see me about a baptism. When I told her that one of the godparents had to be Catholic, but the other could be Christian, she looked at me blankly and asked, "What's the difference?'
Palin, like so many churchgoers, doesn't know what she doesn't know.
Footnote: lest we forget, Palin was baptized Catholic. 
UPDATE: A commenter on Facebook noted that I unwittingly made essentially the same mistake as Palin in my explanation to the mother about baptism. What I meant, of course, is "the other could be Christian from another denomination, or Protestant."  Further evidence, I think, of how easy it is to misspeak.  (FWIW, I often have to explain to parents that no, despite how close that Buddhist/Muslim/Jew/Atheist is to the family, and no matter how upright and moral that person may be, that doesn't mean he or she is qualified to be a godparent at a Catholic baptism. But that's a topic for another post…)
UPDATE II: A reader alerted me to this video of the event in question, and notes that Palin says nothing like what's i the USA TODAY quote. However, the video is of her prepared remarks.  The quote evidently comes from a separate interview she did with the paper.