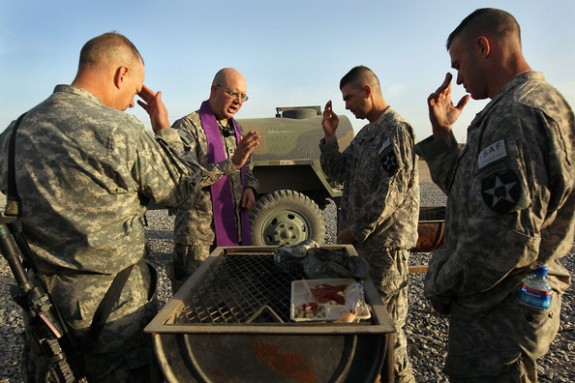 From The Washington Post:
For decades, the Catholic Church has struggled with a shortage of priests. But the problem is particularly acute in the U.S. military, where the overall shortfall has led to a shortage of Catholic chaplains within the Defense Department.

What makes the problem particularly difficult for the military is that Catholic doctrine holds that only Catholic priests are allowed to perform the sacraments of baptism, confirmation, ordination, confession, Holy Communion and marriage. In addition, only Catholic priests are allowed to conduct last rites for their ranks.

Now, the Army is stepping up its recruitment efforts for Catholic chaplains. The Army has increased its outreach to Catholic seminary students and clergy, while also sending representatives to major Catholic conferences. Indeed, Catholics make up 20 percent of all Army troops but only 6 percent of the chaplain corps.

Two Army chaplains, Col. Gary Studniewski, command chaplain of U.S. Army North (Fifth Army), and Lt. Col. Jose Herrera, who is stationed at Fort Carson, Colo., talked about the effort to add to their ranks of chaplains.

Tell us a little about some of the problems that the Army is facing regarding the shortage of Catholic chaplains.

Studniewski: We are stretched pretty thin, especially when you are talking about a deployed setting. [Chaplains] are being shuffled around because there is a shortage on each base. Many times, priests become a circuit rider, and it doesn't allow them to form the relationships that you would like to have if they were in a more stable setting. The fun side is you get to lead many lay men and women who not only love their country, but love their church.

What is the impact for the rank-and-file troops?

Studniewski: One time, I went somewhere and the soldier said: "I have served for 20 years and I have never had a Catholic chaplain. We are just glad that you are here, take a load off."

What are some of the concrete steps that are being taken to deal with the problem?

Studniewski: Every year a large percentage of the men ordained have prior military service or come from a military family. If we have more Catholic priests they can be recruits for the future. We have a co-sponsorship program where the priest serves three years in the diocese and then three years they can [serve in the military].

We also have lay leaders. The fun thing is you get lay men and women to serve. These are men and women who not only love their church, they want to volunteer. People are so eager to do whatever.
It's worth noting—as any deacon will quickly point out—that the reporter got the second paragraph wrong. Priests aren't the only ones who can administer the sacraments.